The Coming Great Recession, Brought to You by the Healthcare Cartel
December 1, 2015
So what happens when an insatiable state-mandated cartel attaches itself to households with declining real incomes?
Why the coming Great Recession is brought to you by the Healthcare Cartel is painfully simple: in an era of stagnant household incomes, every additional dollar devoted to rising healthcare insurance, outrageously unaffordable medications and soaring co-pays is one less dollar that's available to be saved, invested or spent on something other than healthcare.
Recent headlines tell the story: off-patent medications suddenly leap in price, healthcare premiums jump 25+% in a single year, co-pays increase and the deductibles on many insurance plans are so high that the coverage is more phantom than real: if you have to spend $5,000 before your insurance plan pays $1, what value is the coverage?
If the plan costs $5,000 a year, but doesn't pay a dime of expenses until you've spent $5,000, then the plan actually costs $10,000.
No wonder rising healthcare costs are tightly correlated with recessions, as longtime correspondent B.C.'s chart reveals: as healthcare expenses consume more oxygen, the rest of the economy starts gasping for air: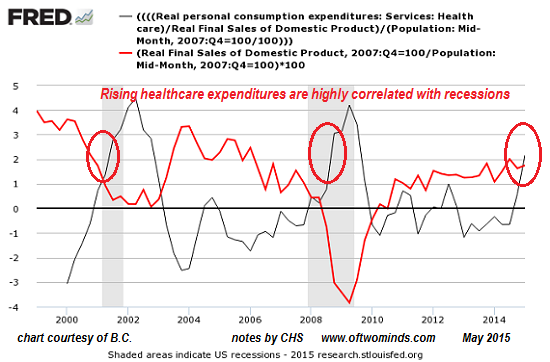 Total healthcare expenditures are generally under-estimated, distorting the full consequences of soaring healthcare: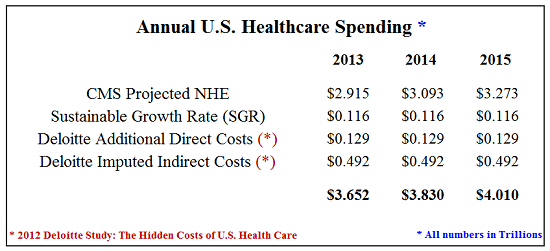 Adjusted for inflation, healthcare expenditures have risen 55% since 2000: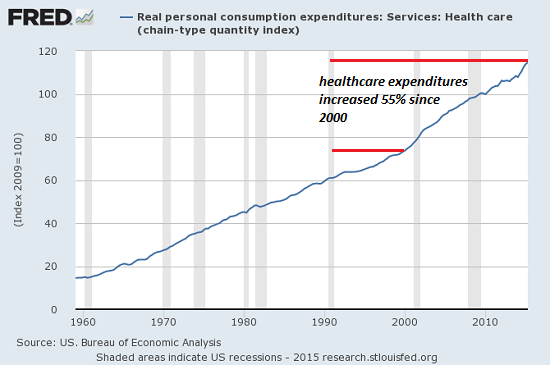 Compared to our developed-nation competitors, the U.S. spends an inordinate amount of healthcare spending on the elderly. Why? because it's so profitable, and the federal government pays the bills, no questions asked--even when the billing is fraudulent or inflated, or the medications and procedures are needless or even harmful.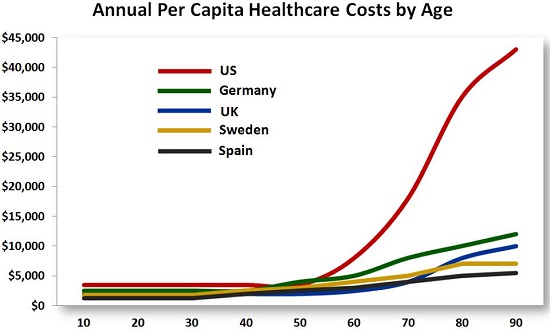 So what happens when an insatiable state-mandated cartel attaches itself to households with declining real incomes?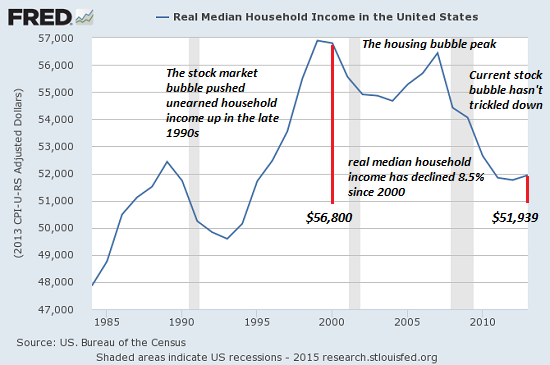 There is less money to spend in the rest of the economy, which stumbles into recession.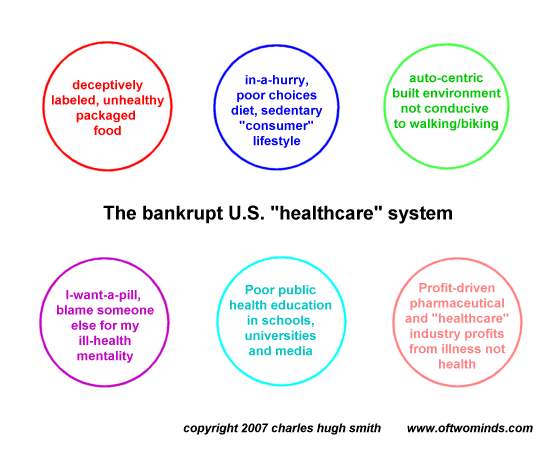 Of related interest:
Can Chronic Ill-Health Bring Down Great Nations? Yes It Can, Yes It Will (November 23, 2011)
---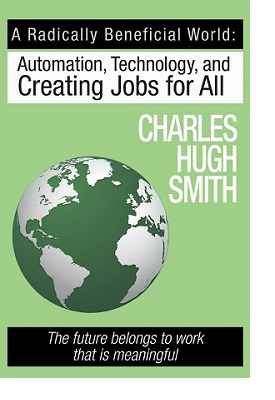 Get a 15% discount on my new book: A Radically Beneficial World: Automation, Technology and Creating Jobs for All: The Future Belongs to Work That Is Meaningful. The Kindle edition is $8.45 this week, a 15% discount from its list price of $9.95.
The print edition is $25, but there's a $6 discount through my publisher's page for the book: you must use the code JPW86XRB to get the $6 discount. Note this does not include shipping, and requires making the purchase through Createspace.
Here is the link to the book's Amazon.com listing, Introduction and Chapter One (free PDF).
"Certainly the author is decades ahead of his time. Humanity will eventually adopt the author's principles written in all of his books. Currently, humanity lives in delusion that the system will continue to serve them. We will see massive changes even in the next decade. Don't waste your money on college--buy the author's books and succeed." Book Reader (via Amazon.com)
---
Recent entries:
The Coming Great Recession, Brought to You by the Healthcare Cartel December 1, 2015



November 2015 entries all October 2015 entries 2015 Archives Archives 2005-2014
---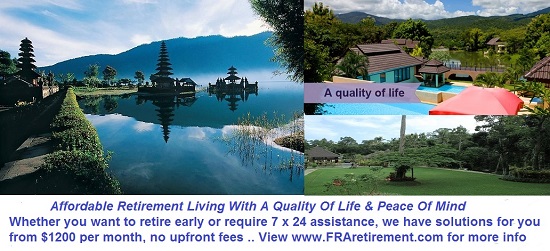 Discover why I'm looking to retire in a SE Asia luxury resort for $1,200/month.
---
Contributions/subscriptions are acknowledged in the order received. Your name and email remain confidential and will not be given to any other individual, company or agency. All contributors are listed below in acknowledgement of my gratitude.
| | | |
| --- | --- | --- |
| Thank you, Spike T. ($100), for your outrageously generous contribution to this site -- I am greatly honored by your steadfast support and readership. | | Thank you, Craig H. ($20), for yet another sumptuously generous contribution to this site -- I am greatly honored by your steadfast support and readership. |
---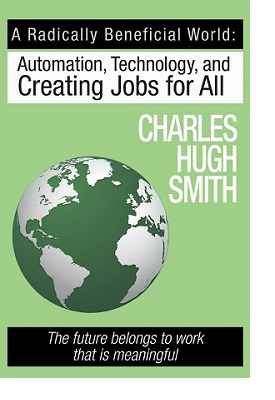 Automation is upending the global order by eliminating human labor on an unprecedented scale--and the status quo has no solution to this wholesale loss of jobs.
What if we could hit the reset button on the way we create money, work, commerce and community? What if we could design a social economy rather than a merely financial one? These are not idle questions, for technology now enables us to hit that reset button and organize the creation of money, work, commerce and community in new ways.
If we could start from scratch, what would a new system look like? Clearly, we need a system that offers what the current system cannot: meaningful work for all.
This book is the practical blueprint of a new system that offers opportunities for meaningful work and ownership of the sources of prosperity not just to a few, but to everyone.
In this system, every individual has the power to change the system for the betterment of themselves and every other participant. Being at the top of the heap is no longer a prerequisite. Everyone who is powerless in the current arrangement is empowered in the new system. Empowered to not just better themselves and their family, but better their community and the larger community of Planet Earth.
A radically beneficial world beckons—what are we waiting for? Introduction Chapter One (free PDF)
---
Get a Job, Build a Real Career and Defy a Bewildering Economy
(Kindle, $9.95)(print, $17.76)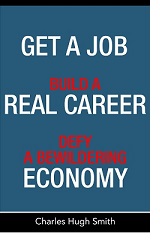 "Don't give this to a recent grad. Read it when your kids are born and then read it with them around eighth grade."
"Finally a book that gives practical career advice. The author does an excellent job describing the current economic and political system and how this affects employment opportunities. Times have changed dramatically, and will continue to do so faster than ever. I'm glad I stumbled upon this excellent book, and will begin preparing myself accordingly." Joseph
"I want to thank you for creating your book Get a Job. It is rare to find a person with a mind like yours, who can take a holistic systems view of things without being captured by specific perspectives or agendas. Your contribution to humanity is much appreciated." Laura Y. Test-drive the first section and see for yourself.


---
Of Two Minds Site Links
home musings my books archives books/films policies/disclosures social media/search Aphorisms How to Contribute, Subscribe/Unsubscribe sites/blogs of interest original music/songs Get a Job (book) contributors my definition of success why readers donate/subscribe to Of Two Minds mobile site (Blogspot) mobile site (m.oftwominds.com)