---

---
My Thanksgiving: Five Things I Am Thankful For
November 27, 2014


A Thanksgiving offering: five things I'm grateful for.
My wife suggested I write down five things I'm grateful for today, and I offer that as a suggestion to you. There is a power in the written word which is not accessible to the spoken word.
Writing down what we're sincerely grateful for is an act of truth--and truth may well be the unspoken essential for all gratitude.
It's always tempting to veer into pontificating when listing one's gratitudes ("I'm grateful for black holes, corn bread, cordless drills, Les Paul and Bertrand Russell..."). Few would have the sincerity to be honest about the gratitudes we actually experience--for instance, "I'm grateful for the NFL and the memory of watching Dwight Clark make The Catch."
For those who don't understand this as something to be grateful for--it's a mystical thing.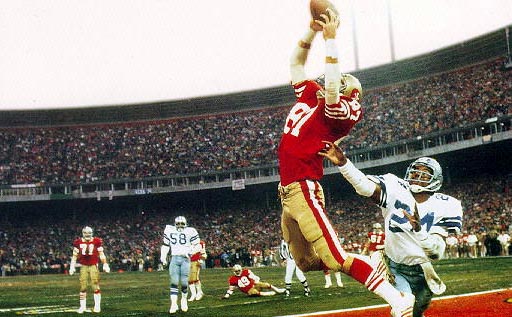 As important as small gratitudes are in our daily struggle against futility and ennui, it's also a worthy exercise to ground ourselves occasionally in what gives our lives meaning and purpose: the bedrock of happiness and a life well-lived.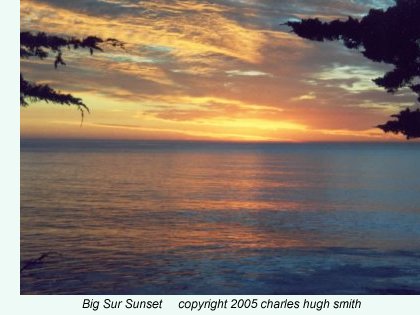 Without a lot of forethought, here is my list of five things I'm thankful for. I guess it reflects the preoccupations of my daily life, which revolves around this weblog, my writing, shoring up my health and our uncertain and possibly troubled future.
1. I am thankful for the World Wide Web and the Constitutional right to freedom of speech, which enables us to share our thoughts, emotions, ideas and information without interference (generally speaking) from oppressive authorities. This freedom to exchange ideas and experiences, what works and what doesn't, is the foundation of my hope for the future. This weblog is my small contribution to this infinitely complex process.
2. I am grateful for the opportunity to fashion what I call hybrid work, a life that draws purpose and meaning from a variety of projects and work, some paid, some unpaid, some compensated by value other than money.
In Survival+, I call this goal radical self-reliance.
I wouldn't be much of an advocate for hybrid work if I had a corporate monoculture job (i.e. one specialized skill, one employer, and thus a very high level of vulnerability to disruption). It's taken a long time to develop multiple sources of (modest) income and purpose, but it's been worth it.
3. Since a substantial part of my livelihood comes from being paid to write and from reader contributions, I am also very grateful to you, dear Reader, for investing your time in visiting this outpost on the Web and for reading my other work. Without readers, a writer has little to offer in terms of value.
4. Since I espouse an integrated understanding of our plight, then health is a key thread running through my life, and so naturally I am grateful for the health I have at 60 years of age. It is something that requires responsibility and work; I have a bunch of bad genes working against me as well as "carpenter's elbow" and a host of other consequences of lifting too much stuff over the decades. But I really am grateful for what I've got in the way of health; it is amazing that the body is designed to rejuvenate itself if given half a chance.
At this point, the urge to choose some daily gratitude is strong (red wine? Oranges? Natural gas?) just to avoid the dreaded state of pontification, but--
5. I am grateful to be alive now, when the industrialized world is poised to transition, whether it wants to or not, to another way of living/consuming/working. It may well play out badly, but perhaps not. The lifestyle that requires hundreds of barrels of oil (or equivalent) per person per year is certainly coming to an end, but a good life need not require hundreds of barrels of oil per year.
Nobody knows how the future will play out, so we will all play it as it lays. (The fancier phrase: Life is contingent.) That's pretty exciting.
What am I grateful for, in one line? Opportunity, openness, sharing, knowledge and failure, for without failure we learn little.
I wish you all a safe, peaceful Thanksgiving.
---
---
Get a Job, Build a Real Career and Defy a Bewildering Economy
(Kindle, $9.95)(print, $17.76)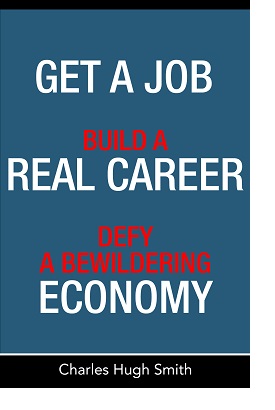 Are you like me?
Ever since my first summer job decades ago, I've been chasing financial security. Not win-the-lottery, Bill Gates riches (although it would be nice!), but simply a feeling of financial control. I want my financial worries to if not disappear at least be manageable and comprehensible.
And like most of you, the way I've moved toward my goal has always hinged not just on having a job but a career.
You don't have to be a financial blogger to know that "having a job" and "having a career" do not mean the same thing today as they did when I first started swinging a hammer for a paycheck.
Even the basic concept "getting a job" has changed so radically that jobs--getting and keeping them, and the perceived lack of them--is the number one financial topic among friends, family and for that matter, complete strangers.
So I sat down and wrote this book: Get a Job, Build a Real Career and Defy a Bewildering Economy.
It details everything I've verified about employment and the economy, and lays out an action plan to get you employed.
I am proud of this book. It is the culmination of both my practical work experiences and my financial analysis, and it is a useful, practical, and clarifying read.
Test-drive the first section and see for yourself. Kindle, $9.95 print, $17.76
"I want to thank you for creating your book Get a Job, Build a Real Career and Defy a Bewildering Economy. It is rare to find a person with a mind like yours, who can take a holistic systems view of things without being captured by specific perspectives or agendas. Your contribution to humanity is much appreciated."
Laura Y.
Gordon Long and I discuss The New Nature of Work: Jobs, Occupations & Careers (25 minutes, YouTube)
---
---
HUGE GIANT BIG FAT DISCLAIMER: Nothing on this site should be construed as investment advice or guidance. It is not intended as investment advice or guidance, nor is it offered as such.... (read more)
WHY EMAIL TO THIS SITE IS READ BUT MAY NOT BE ACKNOWLEDGED: Regrettably, I am so sorely pressed for time and energy that I am unable to respond to the vast majority of emails. Please know I read all emails, but I can only devote a very limited number of hours to this blog and all correspondence....
---
This Month's entries:
My Thanksgiving: Five Things I Am Thankful For
November 27, 2014
Prosperity Amidst the Ruins
November 26, 2014
Nothing Has Changed--and That's the Problem
November 25, 2014
Central Banks: When We Succeed, We Fail
November 24, 2014
The Astonishing Rise of Central Bank Fear
November 22, 2014
Have Central Banks Entered an Undeclared War?
November 21, 2014
The Falcon Can No Longer Hear the Falconer
November 20, 2014
Why Living in a Post-Bubble World Is No Fun
November 19, 2014
One Reason Why Sickcare Is Outrageously Expensive: Needless Scans/Tests
November 18, 2014
The Cruel Injustice of the Fed's Bubbles in Housing
November 17, 2014
The Rubber Band Is Stretched--Will It Break?
November 15, 2014
It's Not Just Japan That's Failed; The "Asian Miracle" Model Has Also Failed
November 14, 2014
Why the Rising U.S. Dollar Could Destabilize the Global Financial System
November 13, 2014
Which Cities/States Will Be the First to Default When the Economy Rolls Over?
November 12, 2014
What Have We Learned From 24 Years of War?
November 11, 2014
Where Will Risk Erupt This Time?
November 10, 2014
One Chart, One Question
November 8, 2014
About That "S&P 500 Will Be 2,150 by Christmas" Call....
November 7, 2014
If You Really Think It Matters Which Party Controls the Senate, Answer These Questions
November 6, 2014
Why Tax Just Soda? Why Not Tax Sugar?
November 5, 2014
Anatomy of a Failing State: Japan's Budgetary Nightmare
November 4, 2014
Japan's Monetary Pearl Harbor
November 3, 2014
Home-Grown Potatoes and Lovage
November 1, 2014


October 2014 entries
Contributions and Subscriptions
Contributors and subscribers enable Of Two Minds to post 275+ free essays annually. It is for this reason they are Heroes and Heroines of New Media. Without your financial support, the free content would disappear for the simple reason that I cannot keep body and soul together on my meager book sales alone.
NOTE: Contributions/subscriptions are acknowledged in the order received. Your name and email remain confidential and will not be given to any other individual, company or agency. All contributors are listed below in acknowledgement of my gratitude.

---
| | | |
| --- | --- | --- |
| | Thank you, Michael K. ($20), for your remarkably generous contribution to this site-- I am greatly honored by your support and readership. | |
---
SPECIAL APPEAL TO READERS OF OFTWOMINDS
from longtime correspondent Cheryl A.:
I don't recall exactly how I discovered Of Two Minds in late 2005, but it is hard to express how grateful I am that I did. As a result of the insight I have gained from the information Charles has shared over these past 9 years, I have been able to navigate this turbulent period much more successfully than most of my acquaintances. I'm sure that those of you who visit OTM with any regularity have similarly benefitted in numerous ways.

The addition of the weekly musings has been an extra bonus for supporters that has provided further insight into the markets, as well as the world around us (often providing a much needed smile).

I have no doubt that those who generously contribute to this site recognize the value that it offers. I hope that those of you who visit, but have not yet contributed, will consider doing so. Your support is essential in helping to maintain such an important resource.

10/20/14 P.S. Over a year ago, Charles wrote about the coming rise in the dollar, a story that is just now gaining traction in the mainstream media. He was also early to recognize that the price of oil was going to fall. For readers who want foresight into where we are headed, these are further examples of why Charles deserves your support.
Thank you, Cheryl, for this vote of confidence.
I can only promise that I will continue to do my best.
---