Brexit, the E.U. and the "Special Relationship" of the U.S./U.K.
June 30, 2016
Any clique in the E.U. that thinks the U.S. will sit idly by while they "punish" the U.K. had better recalibrate their core interests and the potential for blowback.
One constant in a fast-shifting global chess board is the special relationship between the United Kingdom and the United States. The term special relationship defines a close collaboration diplomatically, militarily and financially.
Some might go so far as to speak of an Anglo-American Empire in terms of finance.
Needless to say, this special relationship impacts the European Union and the longer term impacts of Brexit.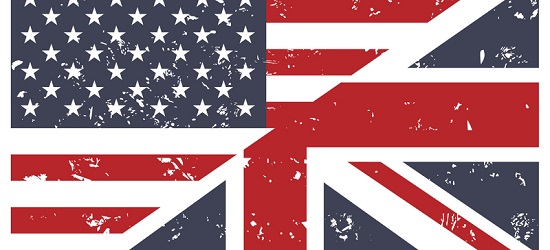 Alliances are as complex as marriages. Just as marriages unite families as well as individuals, so alliances and treaties bind various sectors and agencies of nations in different ways and with different degrees of bonding.
Ties between France and Britain, for example, go back to the Norman invasion of England in 1066. The two have been rivals, adversaries and allies.
Nations that share borders almost always have special relationships due to the histories that go with borders--trade, war, occupation, alliances, etc.
The U.S. also has special relationships with a variety of other nations, relationships that are not like the U.K./U.S. ties but unique and powerful nonetheless.
The U.S. and Russia go way back, to the era of Pacific imperial rivalries in the 19th century, U.S. backing of anti-Communist forces in Russia's civil war, an alliance in World War II, the rivalries of the Cold War and a number of critical cooperative advances such as the SALT limitations on nuclear weapons and the International Space Station (Russia has done the heavy lifting of resupply and provided cosmonauts since the beginning).
China and the U.S. also have a special relationship due to the size and interconnectedness of their economies and their mutual need for cooperation despite the jostling for Great Power influence.
Japan and the U.S. also have a special relationship, from mortal enemies in World War II to the occupation of Japan and the strong economic and diplomatic ties of the postwar era.
France and the Etats-Unis (United States) have long, deep and often fractious ties, stretching back to the French fleet's critical role in sealing the defeat of the British Army in the Revolutionary War (1781). Thousands of American soldiers killed defending France in World War I ("Lafayette, we are here!") and World War II are buried in French soil.
Germany and the U.S. also have a unique relationship due to the long presence of American troops on German soil to make good the U.S. pledge to defend West Germany against Soviet invasion. United Germany and the U.S. remain allies with core interests in maintaining peace and prosperity throughout Europe.
Special relationships are not necessarily harmonious or trouble-free; what they provide is a history of communication and an overlay of self-interest that drives a search for common ground or a level of disagreement that doesn't threaten the core interests of both nations.
Some observers have seen the U.K. as a broker between the E.U. and the U.S. Perhaps this was true in some cases, but I don't think the complexities of the special relationship and the even greater complexities of the E.U. can be distilled down to such a simplistic dynamic.
I think the reality is nobody's in a mood to take orders from anyone. The core interests of all players in the Brexit drama are being recalculated, and areas of common ground and regions of profound disagreement are being mapped out.
There's been some talk that the major E.U. powers will need to punish the U.K. to discourage any other escapes. I have no idea if this is mere talk or not, but I am confident that the U.S. will help its British cousins through any spot of bother.
Whatever problems that can be solved by creating a trillion dollars will be solved. It's worth recalling which central bank issued trillions in credit and swap lines to the major European banks in the 2008 global financial meltdown: yes, the Federal Reserve, which remains the central bank to the world, not just the U.S.
While some countries are selling pieces of national oil companies to raise desperately needed cash (Russia) and others are taking their oil to the global pawn shop to borrow desperately needed cash (Saudi Arabia), the U.S., for better or for worse, can borrow or print almost unlimited sums, and there will be ready buyers of the bonds and ready customers for the USD swap lines.
That's the benefit of owning a true reserve currency, something I've discussed many times in terms of Triffin's Paradox, the dual role of the USD in the domestic and global economies, and the value of USD hegemony:
Understanding the "Exorbitant Privilege" of the U.S. Dollar (November 19, 2012)
Why the Rising U.S. Dollar Could Destabilize the Global Financial System (November 13, 2014)
Could the U.S. Dollar Rise 50%? (January 12, 2011)
The Dollar and the Deep State (February 24, 2014)
The U.S. has a core interest in preserving British autonomy, but it also has a core interest in helping the European Union solve its many problems. The U.S. is not choosing between the U.K. and the E.U., except if it is forced to on specific issues by extremists in the E.U.
Any clique in the E.U. that thinks the U.S. will sit idly by while they "punish" the U.K. had better recalibrate their core interests and the potential for blowback. Choose your frenemies and allies wisely.


A Radically Beneficial World: Automation, Technology and Creating Jobs for All is now available as an Audible audio book.
My new book is #14 on Kindle short reads -> politics and social science: Why Our Status Quo Failed and Is Beyond Reform ($3.95 Kindle ebook, $8.95 print edition) For more, please visit the book's website.
---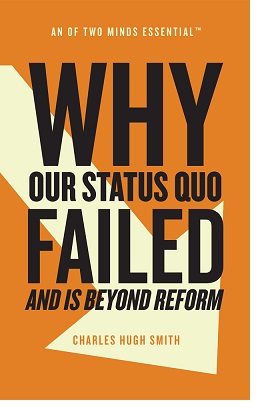 Our status quo--the pyramid of wealth and power dominated by the few at the top--has failed and is beyond reform.
This failure is not rooted in superficial issues such as politics or governmental regulations; the failure is structural.
The very foundation of the status quo has rotted away, and brushing on another coat of reformist paint will not save our societal house from collapse.
Yet those who benefit from our status quo naturally deny it has failed, for the reason that it has yet to fail them personally—either pretending to not understand that all unsustainable systems eventually collapse, or hoping to postpone it.
Our status quo is not only failing to solve humanity's six core problems--it has become the problem.
Since this failure is now inevitable, something is coming to replace it. We must each understand why our status quo has failed, and why the usual menu of reforms can't stop this failure, so we can prepare ourselves for the radical transformations ahead.
Why Our Status Quo Failed and Is Beyond Reform ($3.95 Kindle ebook, $8.95 print edition)
---
Recent entries:
Brexit, the E.U. and the "Special Relationship" of the U.S./U.K. June 30, 2016
Brexit, a Step in the Right Direction: The Optimistic View June 29, 2016
Brexit Is What Happens When the Pie Is Shrinking June 28, 2016
Understanding Brexit: The Powerless Press Their Thumb in the Eye of the Power Elite June 27, 2016
Please Don't Pop My Bubble! June 24, 2016
Where Are the Jobs? Mostly In Big Cities June 23, 2016
What Does It take to Be Upper Middle Class? June 22, 2016
If You Want More Jobs and More Job Stability, Disrupt More, Not Less June 21, 2016
How Many Law Schools Need to Close? Plenty June 20, 2016
Japan: A Future of Stagnation June 17, 2016
The Disaster of De-industrialization June 16, 2016
Pity the Poor Central Bankers: Playing Masters of the Universe Is No Longer Fun June 15, 2016
Work Won't Be Scarce--It's Paid Work That Will Be Scarce June 14, 2016
An Everyman's Guide To Understanding Cryptocurrencies June 13, 2016


June 2016 May 2016 April 2016 March 2016 February 2016 January 2016 2015 Archives Archives 2005-2016
---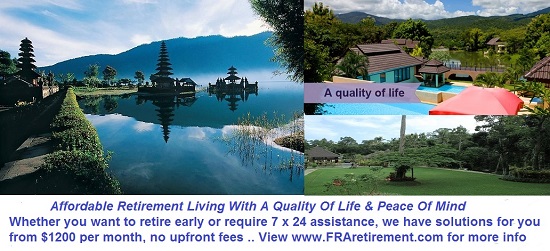 Discover why I'm looking to retire in a SE Asia luxury resort for $1,200/month.

---
Contributions/subscriptions are acknowledged in the order received. Your name and email remain confidential and will not be given to any other individual, company or agency. All contributors are listed below in acknowledgement of my gratitude.
| | | |
| --- | --- | --- |
| | Thank you, Denise H. ($50), for your splendidly generous contribution to this site-- I am greatly honored by your steadfast support and readership. | |
---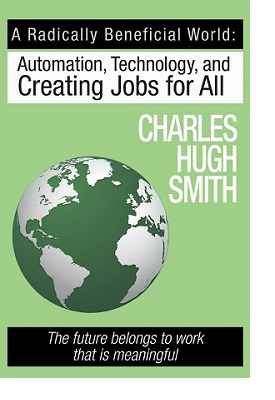 Kindle, $9.95
print, $25
Automation is upending the global order by eliminating human labor on an unprecedented scale--and the status quo has no solution to this wholesale loss of jobs.
What if we could hit the reset button on the way we create money, work, commerce and community? What if we could design a social economy rather than a merely financial one? These are not idle questions, for technology now enables us to hit that reset button and organize the creation of money, work, commerce and community in new ways.
If we could start from scratch, what would a new system look like? Clearly, we need a system that offers what the current system cannot: meaningful work for all.
This book is the practical blueprint of a new system that offers opportunities for meaningful work and ownership of the sources of prosperity not just to a few, but to everyone.
"Certainly the author is decades ahead of his time. Humanity will eventually adopt the author's principles written in all of his books. Currently, humanity lives in delusion that the system will continue to serve them. We will see massive changes even in the next decade. Don't waste your money on college--buy the author's books and succeed." Book Reader (via Amazon.com)
A radically beneficial world beckons—what are we waiting for? Introduction Chapter One (free PDF)
---
Get a Job, Build a Real Career and Defy a Bewildering Economy
(Kindle, $9.95)(print, $17.76)
audiobook, $19.95
(Audible.com)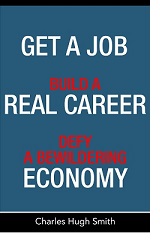 "Don't give this to a recent grad. Read it when your kids are born and then read it with them around eighth grade."
"Finally a book that gives practical career advice. The author does an excellent job describing the current economic and political system and how this affects employment opportunities. Times have changed dramatically, and will continue to do so faster than ever. I'm glad I stumbled upon this excellent book, and will begin preparing myself accordingly." Joseph
"I want to thank you for creating your book Get a Job. It is rare to find a person with a mind like yours, who can take a holistic systems view of things without being captured by specific perspectives or agendas. Your contribution to humanity is much appreciated." Laura Y. Test-drive the first section and see for yourself.


---
Of Two Minds Site Links
home musings my books archives books/films policies/disclosures social media/search Aphorisms How to Contribute, Subscribe/Unsubscribe sites/blogs of interest original music/songs Get a Job (book) contributors my definition of success why readers donate/subscribe to Of Two Minds mobile site (Blogspot) mobile site (m.oftwominds.com)