Either Reverse All the Perverse Incentives or the System Will Implode
May 3, 2016
Every perverse incentive is the cash cow for a vested interest or cartel.
I hope it's not a great shock to discover all the incentives in our status quo are perverse: those who rig the financial system while creating zero real value, jobs, goods or services reap all the big profits; those who take near-zero responsibility for their own health are subsidized by those who take responsibility for their own health; those who try to start enterprises and hire workers are saddled with endless regulations, junk fees and taxes while those who game the system to get welfare (household or corporate) skim the cream for doing nothing for their community or for the nation.
Systems in which all the incentives are perverse implode under their own weight. Those who struggle to pay the mounting costs of Imperial Over-Reach, crony-capitalism and all the skimmers and scammers eventually go bankrupt or quit in disgust, while the army of state dependents and cronies explodes higher.
It has taken decades for the incentives to become so perverse, so we no longer notice the perversity or the pathological consequences.
High-frequency traders and financiers with the ready ear of well-paid political lackeys, stooges, toadies and sycophants run never-lose skimming operations and pay lower tax rates than self-employed and small business owners.
Corporations have increased their share prices not by earning more money by producing more goods and services but by borrowing cheap money from the Federal Reserve and buying back outstanding shares.
Corporations pay less tax if they move production overseas and keep their profits in other countries.
If I wreck one vehicle after another due to reckless irresponsibility, what happens to my insurance premiums? They skyrocket, of course, reflecting the higher risks that result from my behavior and poor choices. Nobody thinks safe drivers should subsidize irresponsible drivers.
But if I wreck my health by recklessly pursuing risky behaviors, I pay the same as people who are careful "drivers" of their health. What sort of incentives does this system generate?
If I want to buy an over-priced home, the system is loaded with incentives to encourage that potentially poor financial decision. But if I want to launch a small enterprise, the incentives are all perverse: steep upfront fees, taxes from the first dollar, and in many cases, fees and taxes on revenues, regardless of whether I am making a profit or losing my shirt.
Corporate profits have soared as financialization and rigging the system have paid much higher returns than risking capital in new goods and services.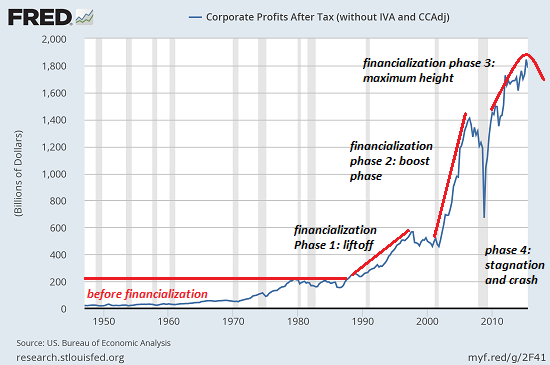 The incentives for home ownership have turned the bottom 90% into debt-serfs in servitude to banks while the top 5% own income-producing assets and businesses.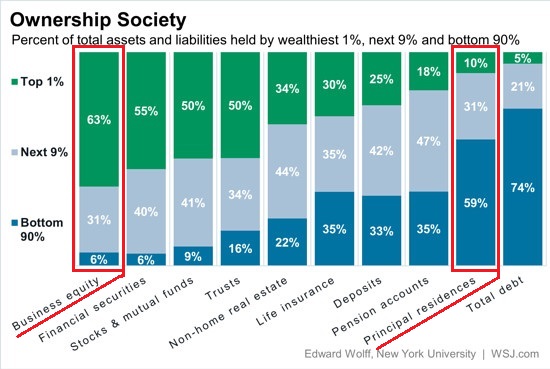 Larded with the most perverse incentives possible, the U.S. healthcare system in the final stages of maximum costs, just before it implodes: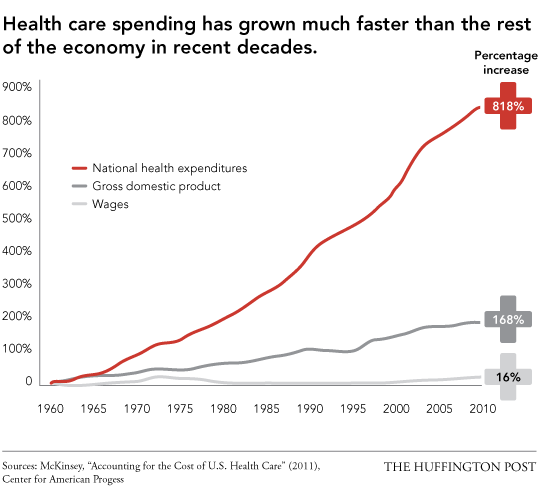 It's not hard to design positive incentives. For example:
1. Make preventative care essentially free to everyone ($5 co-pay) but weight the risks and costs created by irresponsible behaviors that ruin health. Reward those who take responsibility for their health by reducing the premiums they pay.
2. Tax all profits on securities held less than a day at 95%. Raise corporate taxes generated by financial activities to 50%, and lower the corporate tax rate on profits earned from producing domestic goods and services to zero.
3. Lower the tax for the first $25,000 earned by small enterprises to zero. Limit total government fees to 5% of revenues for all businesses up to $10 million in annual revenues.
4. Phase out the mortgage interest deduction. Limit mortgage interest deductions to the first $100,000 of mortgage debt.
5. Eliminate the personal income tax (and the need to file a return) for every household with income of $100,000 or less.
6. Automatically sunset every government regulation. Make city, county, state and federal governments renew every regulation every few years via a majority vote or it vanishes from the law books.
7. Make every politician wear a NASCAR-style jacket plastered with the names and logos of their corporate, union and financier contributors. The California Initiative to make this a reality is seeking signatures of registered California voters. Since politicians are owned, let's make the ownership transparent.
8. Treat drug abuse and addiction as medical conditions rather than crimes.
9. Eliminate the Federal Reserve and its free-money for financiers perverse incentives for debt-serfdom and financial plundering.
10. Eliminate all student loans and debts. Make colleges compete for students on a cash-only basis.
As you no doubt noticed, every perverse incentive is the cash cow for a vested interest or cartel. That's why the perverse incentives will endure until the system implodes under their pathological weight.
My new book is #3 on Kindle short reads -> politics and social science: Why Our Status Quo Failed and Is Beyond Reform ($3.95 Kindle ebook, $8.95 print edition) For more, please visit the book's website.
---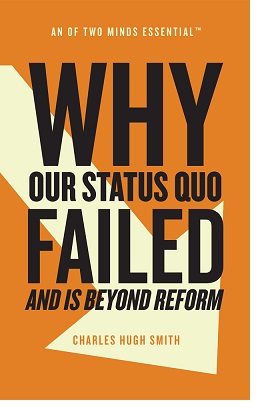 Our status quo--the pyramid of wealth and power dominated by the few at the top--has failed and is beyond reform.
This failure is not rooted in superficial issues such as politics or governmental regulations; the failure is structural.
The very foundation of the status quo has rotted away, and brushing on another coat of reformist paint will not save our societal house from collapse.
Yet those who benefit from our status quo naturally deny it has failed, for the reason that it has yet to fail them personally—either pretending to not understand that all unsustainable systems eventually collapse, or hoping to postpone it.
Our status quo is not only failing to solve humanity's six core problems--it has become the problem.
Since this failure is now inevitable, something is coming to replace it. We must each understand why our status quo has failed, and why the usual menu of reforms can't stop this failure, so we can prepare ourselves for the radical transformations ahead.
Why Our Status Quo Failed and Is Beyond Reform ($3.95 Kindle ebook, $8.95 print edition)
---
Recent entries:
Either Reverse All the Perverse Incentives or the System Will Implode May 3, 2016
Why Are We So Unhealthy? Our System Makes Us Sick & Keeps Us Sick May 2, 2016
Is the World Getting Crazier, But We No Longer Notice? April 29, 2016
Why Real Reform Is Now Impossible April 28, 2016
America's Entitled (and Doomed) Upper Middle Class April 27, 2016
Lessons from Japan: Decades of Decay, Unavoidable Collapse April 26, 2016
The Status Quo Has Failed and Is Beyond Reform April 25, 2016


April 2016 entries March 2016 entries February 2016 entries January 2016 entries 2015 Archives Archives 2005-2014
---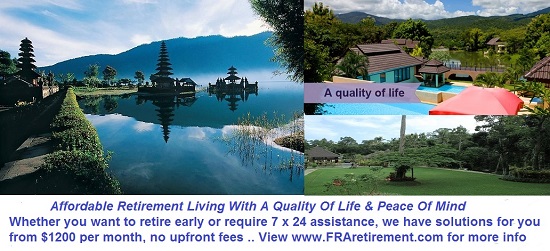 Discover why I'm looking to retire in a SE Asia luxury resort for $1,200/month.

---
Contributions/subscriptions are acknowledged in the order received. Your name and email remain confidential and will not be given to any other individual, company or agency. All contributors are listed below in acknowledgement of my gratitude.
| | | |
| --- | --- | --- |
| Thank you, Anya K. ($5/month), for your superbly generous subscription to this site -- I am greatly honored by your support and readership. | | Thank you, Jason F. ($5/month), for your splendidly generous subscription to this site -- I am greatly honored by your support and readership. |
---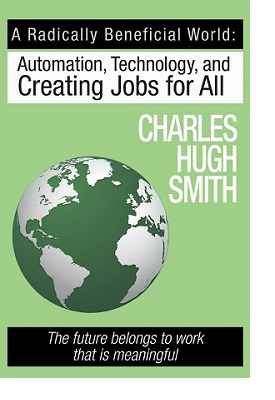 Kindle, $9.95
print, $25
Automation is upending the global order by eliminating human labor on an unprecedented scale--and the status quo has no solution to this wholesale loss of jobs.
What if we could hit the reset button on the way we create money, work, commerce and community? What if we could design a social economy rather than a merely financial one? These are not idle questions, for technology now enables us to hit that reset button and organize the creation of money, work, commerce and community in new ways.
If we could start from scratch, what would a new system look like? Clearly, we need a system that offers what the current system cannot: meaningful work for all.
This book is the practical blueprint of a new system that offers opportunities for meaningful work and ownership of the sources of prosperity not just to a few, but to everyone.
"Certainly the author is decades ahead of his time. Humanity will eventually adopt the author's principles written in all of his books. Currently, humanity lives in delusion that the system will continue to serve them. We will see massive changes even in the next decade. Don't waste your money on college--buy the author's books and succeed." Book Reader (via Amazon.com)
A radically beneficial world beckons—what are we waiting for? Introduction Chapter One (free PDF)
---
Get a Job, Build a Real Career and Defy a Bewildering Economy
(Kindle, $9.95)(print, $17.76)
audiobook, $19.95
(Audible.com)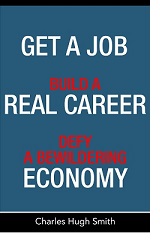 "Don't give this to a recent grad. Read it when your kids are born and then read it with them around eighth grade."
"Finally a book that gives practical career advice. The author does an excellent job describing the current economic and political system and how this affects employment opportunities. Times have changed dramatically, and will continue to do so faster than ever. I'm glad I stumbled upon this excellent book, and will begin preparing myself accordingly." Joseph
"I want to thank you for creating your book Get a Job. It is rare to find a person with a mind like yours, who can take a holistic systems view of things without being captured by specific perspectives or agendas. Your contribution to humanity is much appreciated." Laura Y. Test-drive the first section and see for yourself.


---
Of Two Minds Site Links
home musings my books archives books/films policies/disclosures social media/search Aphorisms How to Contribute, Subscribe/Unsubscribe sites/blogs of interest original music/songs Get a Job (book) contributors my definition of success why readers donate/subscribe to Of Two Minds mobile site (Blogspot) mobile site (m.oftwominds.com)