25 Years of Neocon-Neoliberalism: Great for the Top 5%, A Disaster for Everyone Else
January 20, 2017
It cannot be merely coincidental that the incomes and wealth of the top 5% have pulled away from the stagnating 95% in the 25 years dominated by neocon-neoliberalism.
One unexamined narrative I keep hearing is: "OK, so neocon-neoliberalism was less than ideal, but Trump could be much worse." Let's start by asking: would Syrian civilians agree with this assessment? The basic idea in the "OK, so neocon-neoliberalism was less than ideal, but Trump could be much worse" narrative is that the modest problems created by neocon-neoliberalism will pale next to what Trump will do, implying jackbooted Waffen SS troops will soon be marching through America on Trump's orders.
This narrative is yet another example of American parochialism: since neocon-neoliberalism didn't cause American cities to be bombed and its institutions demolished, it's really not that bad.
Try telling that to the Iraqis, Libyans and Syrians who have been on the receiving end of neocon-neoliberalism policies. The reality is very unpleasant: for those targeted by America's neocon-neoliberalism, nothing worse is imaginable, because the worst has already happened.
The cold reality is America's 25 years of neocon-neoliberalism has been great for the top 5% and an unmitigated disaster for everyone else in the U.S. and the nations it has targeted for intervention.
Those defending the Democratic Party's 16 years of neocon-neoliberalism (Clinton and Obama) and the Republican Party's 8 years of neocon-neoliberalism (Bush) are defending a system that benefited the few at the expense of the many.
Rather than admit the past 25 years have been catastrophic for the bottom 95%, the apologists speak darkly of fantastical visions of a Nazi America as a diversion to the grim truth that they have blindly supported an evil Empire that has stripmined the bottom 95% in America and laid waste to entire nations abroad.
Neoconservatism's malignant spores hatched in the Reagan years, and spread quickly after the collapse of the Soviet Union. Stripped to its essence, Neoconservatism is American Exceptionalism turned into a global entitlement: it's our right to intervene anywhere in the world we choose to defend what we perceive as our interests, and it's our right to impose our version of democracy and a market economy on other peoples.
Self-interest melds seamlessly with moral superiority in neocon-neoliberalism. The moral justification is: since ours is the best possible system, we're doing you a favor by tearing down your institutions and imposing our system on you. The self-interest is: garsh, the "market" we imposed extracts your resources and benefits our banks and corporations. Amazing, isn't it, how "free markets" benefit everyone?
But not equally. The claim of neoliberalism is: everything is transformed for the better when it is turned into a market. Once buyers and sellers can meet in a transparent marketplace, everybody prospers and everything becomes more efficient.
Stripped to its essence, neoliberalism is: the markets we set up are rigged to favor those at the top. All that talk about free markets is just public-relations cover to mask an intrinsically rigged quasi-market that has features of "real" markets while beneath the surface, it's rigged to the advantage of big players at the top of the wealth-power pyramid.
Neoconservatism and neoliberalism are both inherently global, and so globalization is the necessary outcome. There is no market that cannot be skimmed for outsized profits once it has been globalized, and so once bat guano becomes a global tradeable commodity, Goldman Sachs establishes a bat guano trading desk. (This is a spoof, but you get the point.)
Neoconservatism entitles the U.S. to have an "interest" (as in profitable interest) in every nook and cranny of the planet. Policy changes in Lower Slobovia? It's in our "interest" to monitor those changes and intervene if the policies are "not in our interests."
Neocon-neoliberalism is brilliantly evil because it masks its true objectives behind such warm and fuzzy PR. Those looking for enemies of the people will find them not on the streets of America in cartoonish display but in the corridors of financial and policy power.
Dear apologists of the status quo: do you understand you're defending this?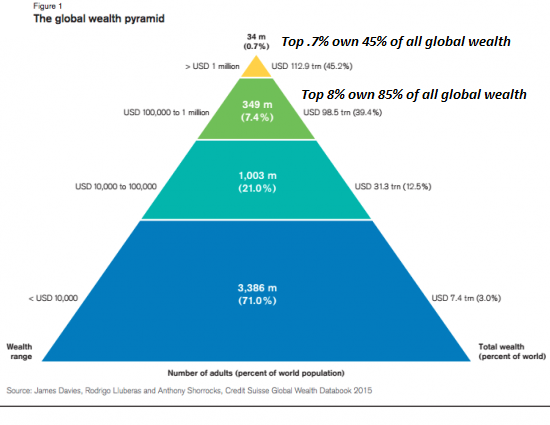 Notice how the wealth of the bottom 90% nosedived once neocon-neoliberalism became the de facto policy of Democrats and Republicans alike. No wonder Obama's two terms seemed like Bush terms 3 and 4--in terms of a continuation of neocon-neoliberalism, they were.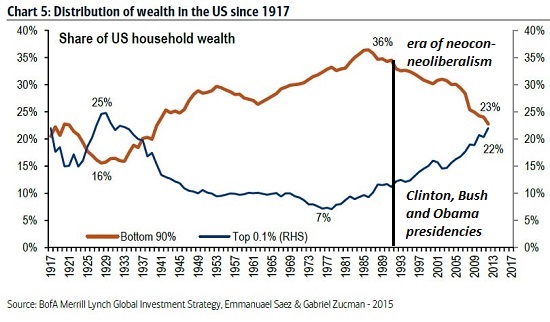 Yes, profound changes in technology, automation, and geopolitics have influenced finance and wealth, but it cannot be merely coincidental that the incomes and wealth of the top 5% have pulled away from the stagnating 95% in the 25 years dominated by neocon-neoliberalism: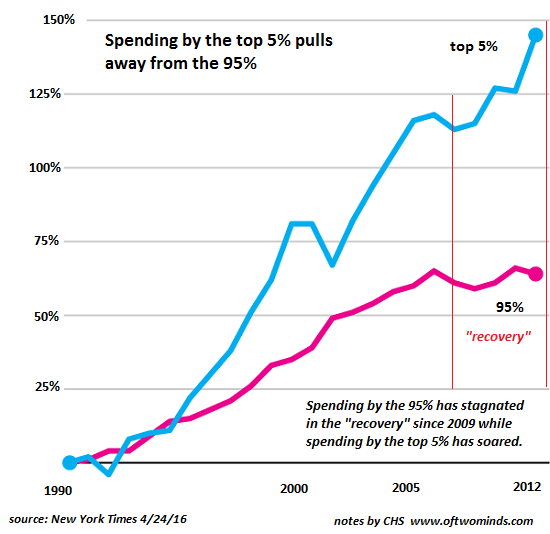 If you found value in this content, please join me in seeking solutions by becoming a $1/month patron of my work via patreon.com.
Check out both of my new books, Inequality and the Collapse of Privilege ($3.95 Kindle, $8.95 print) and Why Our Status Quo Failed and Is Beyond Reform ($3.95 Kindle, $8.95 print). For more, please visit the OTM essentials website.
---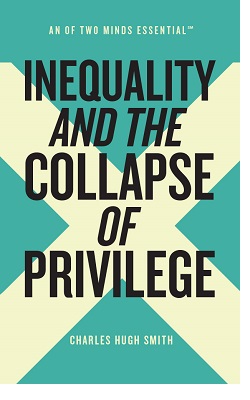 Inequality is rising globally, and rising inequality is destabilizing. A status quo of increasing inequality self-destructs. To avoid this fate, we must answer this question: why is the gulf between the wealthy and everyone else widening so dramatically?
The answer boils down to one word: privilege.
What is privilege? There are many types of privilege, but they all share two characteristics: privilege delivers benefits, wealth and power that are unearned.
Privilege is destabilizing for many reasons: the dead weight of privilege reduces productivity, generates perverse incentives and fuels social injustice. Innovation and competition are threats to privileged monopolies and are therefore suppressed.
The only way to foster sustainable stability is to dismantle institutionalized privilege.
We have a moral imperative to eradicate privilege: privilege is immoral, as rising inequality is the only possible output of privilege. Privilege is exploitive, parasitic, predatory and destructive to the society and economy, and generates inequality by its very nature.
Stripped to its essence, privilege is nothing but institutionalized racketeering.
The only way to reverse rising inequality is to eradicate its source: privilege.
Inequality and the Collapse of Privilege ($3.95 Kindle ebook, $8.95 print edition)
---
Recent entries:
25 Years of Neocon-Neoliberalism: Great for the Top 5%, A Disaster for Everyone Else January 20, 2017
Why Outsiders Need Insiders To Get Anything Done January 19, 2017
Does a Rogue Deep State Have Trump's Back? January 18, 2017
Trump as Lightning Rod--Not Just for Disaffected Progressives, But For Panicked Insiders January 17, 2017
Will Our Grandchildren Wonder Why We Didn't Build a Renewable Power Grid When It Was Still Affordable? January 16, 2017
The Eight Forces That Are Pressuring Profits January 13, 2017
What's Truly Progressive? January 12, 2017
The Path to $10,000 Bitcoin January 11, 2017
Dear Self-Proclaimed "Progressives": as Apologists for the Neocon-Neoliberal Empire, You Are as Evil as the Empire You've Enabled January 10, 2017
Why Don't the U.S. Dollar and Bitcoin Drop to Their Tangible Value, i.e. Zero? January 9, 2017
We Can Only Afford One, So Choose Wisely: Social Security/Medicare, Cartel Cronyism or Inflation (a.k.a. Central Banking) January 6, 2017
Trump Aims to Cut the Neocon Deep State Off at the Knees January 5, 2017
Why Profits Are Faltering January 4, 2017
Prosperity = Abundant Work + Low Cost of Living January 3, 2017
Fragmentation and the De-Optimization of Centralization January 2, 2017


December 2016 &nbsp November 2016 October 2016 September 2016 August 2016 July 2016 June 2016 May 2016 April 2016 March 2016 February 2016 January 2016 2015 Archives Archives 2005-2016
---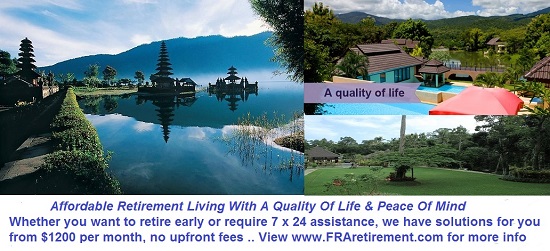 Discover why I'm looking to retire in a SE Asia luxury resort for $1,200/month.

---
Contributions/subscriptions are acknowledged in the order received. Your name and email remain confidential and will not be given to any other individual, company or agency. All contributors are listed below in acknowledgement of my gratitude.
| | | |
| --- | --- | --- |
| Thank you, Richard P. ($100), for your outrageously generous contribution to this site -- I am greatly honored by your steadfast support and readership. | | Thank you, Karen B. ($25), for your splendidly generous contribution to this site -- I am greatly honored by your steadfast support and readership. |
---
---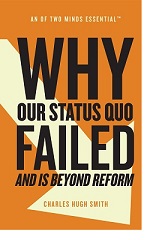 Our status quo--the pyramid of wealth and power dominated by the few at the top--has failed and is beyond reform.
This failure is not rooted in superficial issues such as politics or governmental regulations; the failure is structural.
The very foundation of the status quo has rotted away, and brushing on another coat of reformist paint will not save our societal house from collapse.
Yet those who benefit from our status quo naturally deny it has failed, for the reason that it has yet to fail them personally—either pretending to not understand that all unsustainable systems eventually collapse, or hoping to postpone it.
Our status quo is not only failing to solve humanity's six core problems--it has become the problem.
Since this failure is now inevitable, something is coming to replace it.
Why Our Status Quo Failed and Is Beyond Reform ($3.95 Kindle ebook, $8.95 print edition)


---
A Radically Beneficial World
: Automation, Technology & Creating Jobs for All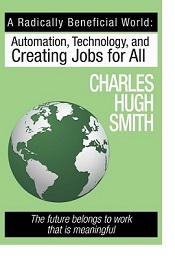 Kindle $9.95
print $25
audiobook $18
Automation is upending the global order by eliminating human labor on an unprecedented scale--and the status quo has no solution to this wholesale loss of jobs.
What if we could hit the reset button on the way we create money, work, commerce and community? What if we could design a social economy rather than a merely financial one? These are not idle questions, for technology now enables us to hit that reset button and organize the creation of money, work, commerce and community in new ways.
If we could start from scratch, what would a new system look like? Clearly, we need a system that offers what the current system cannot: meaningful work for all.
This book is the practical blueprint of a new system that offers opportunities for meaningful work and ownership of the sources of prosperity not just to a few, but to everyone.
A radically beneficial world beckons—what are we waiting for? Introduction Chapter One (free PDF)
---
Get a Job, Build a Real Career and Defy a Bewildering Economy
(Kindle, $9.95)(print, $17.76)
audiobook, $19.95
(Audible.com)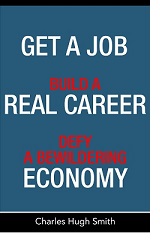 "Don't give this to a recent grad. Read it when your kids are born and then read it with them around eighth grade."
"Finally a book that gives practical career advice. The author does an excellent job describing the current economic and political system and how this affects employment opportunities. Times have changed dramatically, and will continue to do so faster than ever. I'm glad I stumbled upon this excellent book, and will begin preparing myself accordingly." Joseph
"I want to thank you for creating your book Get a Job. It is rare to find a person with a mind like yours, who can take a holistic systems view of things without being captured by specific perspectives or agendas. Your contribution to humanity is much appreciated." Laura Y. Test-drive the first section and see for yourself.
---
---
Of Two Minds Site Links
home musings my books archives books/films policies/disclosures social media/search Aphorisms How to Contribute, Subscribe/Unsubscribe sites/blogs of interest original music/songs Get a Job (book) contributors my definition of success why readers donate/subscribe to Of Two Minds mobile site (Blogspot) mobile site (m.oftwominds.com)