Here's Why All Pension Funds Are Doomed, Doomed, Doomed
May 27, 2016
There are limits on what the Fed can do when this bubble bursts, as it inevitably will, as surely as night follows day.
It's no secret that virtually every pension fund is dead man walking, doomed by central banks' imposition of low yields on safe investments, i.e. Zero Interest Rate Policy (ZIRP).
Given that both The Economist and The Wall Street Journal have covered the impossibility of pension funds achieving their expected returns, this reality cannot be a surprise to anyone in a leadership role.
Many unhappy returns: Pension funds and endowments are too optimistic
Public Pension Funds Roll Back Return Targets: Few managers count on returns of 8%-plus a year anymore; governments scramble to make up funding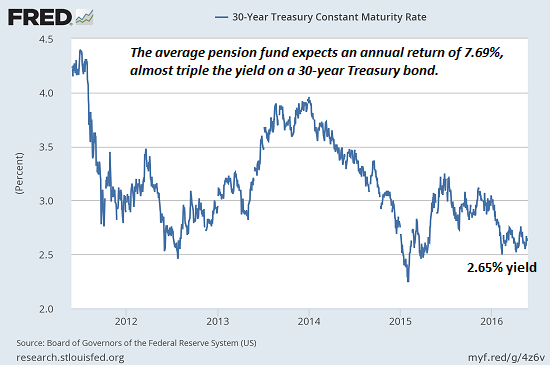 Here's problem #1 in a nutshell: the average public pension fund still expects to earn an average annual return of 7.69%, year after year, decade after decade.
This is roughly triple the nominal (not adjusted for inflation) yield on a 30-year Treasury bond (about 2.65%). The only way any fund manager can earn 7.7% or more in a low-yield environment is to make extremely high risk bets that consistently pay off.
This is like playing one hand after another in a casino and never losing. Sorry, but high risk gambling doesn't work that way: the higher the risk, the bigger the gains; but equally important, the bigger the losses when the hot hand turns cold.
Here's problem #2 in a nutshell: in the good old days before the economy (and pension funds) became dependent on debt-fueled asset bubbles for their survival, pension fund managers expected an average annual return of 3.8%--less than half the current expected returns.
In the good old days, the needed returns could be generated by investing in safe income-producing assets--high-quality corporate bonds, Treasury bonds, etc. The risk of losing any of the fund's capital was extremely low.
Now that the expected returns have more than doubled while the yield on safe investments has plummeted, fund managers must take risks (i.e. chase yield) that can easily wipe out major chunks of the fund's capital if the bubble du jour bursts.
Here's problem #3 in a nutshell: everyone who rode the great bubble of 1994 - 2000 (including pension funds) soon reckoned 10%+ annual returns on equities was The New Normal, so expecting 7.5% - 8% annual returns seemed downright prudent.
When that bubble burst, decimating everyone still holding equities, the Federal Reserve promptly inflated two new bubbles: one in stocks and another in housing. Once again, everyone who rode these two bubbles up (including pension funds) minted hefty profits year after year.
This seemed to confirm that The New Normal included the occasional spot of bother (a.k.a. a severe market crash), but the Federal Reserve would quickly ride to the rescue and inflate a new bubble.
When the dual bubbles of stocks and housing both burst in 2008, once again the Fed rushed to inflate another set of bubbles, this time in stocks, bonds and rental housing. Lowering interest rates could no longer generate a new bubble. This time around, the Fed had to lower interest rates to zero indefinitely, and embark on the most massive monetary stimulus in history--quantitative easing (QE) 1, 2 and 3--to inflate a third bubble in stocks.
This unprecedented expansion of free money for financiers and dropping interest rates to zero generated a bubble in bonds and an echo-bubble in real estate--specifically, commercial real estate and rental housing.
These three bubbles once again generated handsome yields for pension funds. Once again fund managers' faith in the Federal Reserve maintaining a New Normal of occasional crashes quickly followed by even bigger bubbles was rewarded.
But the game is changing beneath the surface of Fed omnipotence. The returns on zero interest rates (or even negative rates) have diminished to zero, and the Fed's vaunted monetary stimulus programs have been recognized as enriching the rich at the expense of everyone else.
Even with the unprecedented tailwinds of one massive bubble after another, pension funds are in trouble. The high-risk returns of Fed-induced bubbles followed by the inevitable crashes cannot replace the safe, high yields of the pre-bubble-dependent economy.
If funds are in trouble with stocks in a new unprecedented bubble high, how will they do when stocks fall back to Earth, as they inevitably do in boom-bust cycles?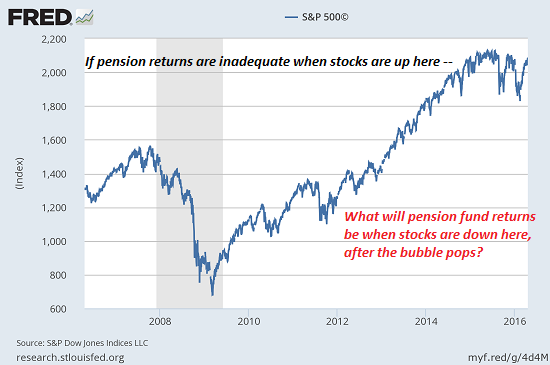 The usual justification for nose-bleed valuations is sky-high corporate profits. But profits have rolled over, and irreversible headwinds are increasing: a stronger U.S. dollar, an aging populace desperate to save more for retirement, an entire generation burdened with student debt and often-worthless college diplomas, a global economy on the brink of recession, diminishing returns on firing workers, diminishing returns on financialization legerdemain, etc.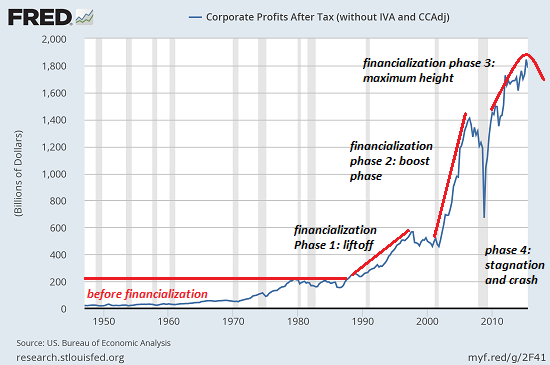 Meanwhile, commercial real estate loans have soared above the previous bubble highs.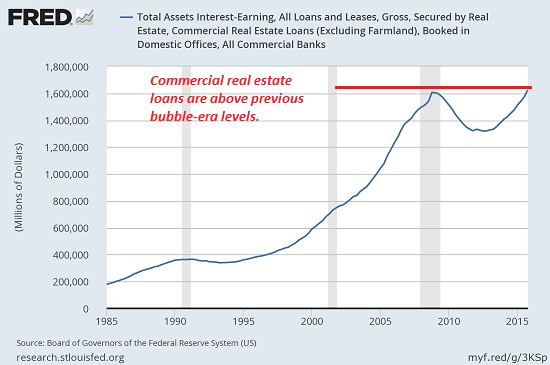 This seems to prove that no bubble bursts for long with the Federal Reserve at the helm, but there are limits on what the Fed can do when this bubble bursts, as it inevitably will, as surely as night follows day.
The Fed can't lower interest rates below zero without signaling that the economy is well and truly broken, and it can't force people who are wary of debt to borrow more, even if it effectively pays borrowers to take on more debt.
All the Fed can do is extend new debt to unqualified borrowers who will default at the first sneeze. This will trigger the collapse of whatever new credit-fueled bubble the Fed might generate.
The political winds are also changing. The public's passive acceptance of central banks' let's make the rich richer and everyone else poorer policies may be ending, and demands to put the heads of central bankers on spikes in the town square (figuratively speaking) may increase exponentially.
It's looking increasingly likely that third time's the charm: this set of bubbles is the last one central banks can blow. And when markets free-fall and don't reflate into new bubbles, pension funds will expire, as they were fated to do the day central banks chose zero interest rates forever as their cure for a broken economic model.


A Radically Beneficial World: Automation, Technology and Creating Jobs for All is now available as an Audible audio book.
My new book is #2 on Kindle short reads -> politics and social science: Why Our Status Quo Failed and Is Beyond Reform ($3.95 Kindle ebook, $8.95 print edition) For more, please visit the book's website.
---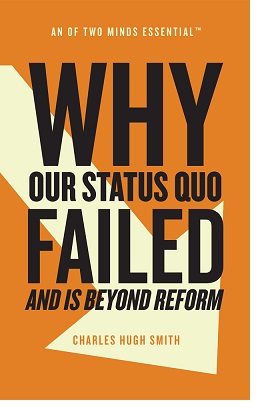 Our status quo--the pyramid of wealth and power dominated by the few at the top--has failed and is beyond reform.
This failure is not rooted in superficial issues such as politics or governmental regulations; the failure is structural.
The very foundation of the status quo has rotted away, and brushing on another coat of reformist paint will not save our societal house from collapse.
Yet those who benefit from our status quo naturally deny it has failed, for the reason that it has yet to fail them personally—either pretending to not understand that all unsustainable systems eventually collapse, or hoping to postpone it.
Our status quo is not only failing to solve humanity's six core problems--it has become the problem.
Since this failure is now inevitable, something is coming to replace it. We must each understand why our status quo has failed, and why the usual menu of reforms can't stop this failure, so we can prepare ourselves for the radical transformations ahead.
Why Our Status Quo Failed and Is Beyond Reform ($3.95 Kindle ebook, $8.95 print edition)
---
Recent entries:
Here's Why All Pension Funds Are Doomed, Doomed, Doomed May 27, 2016
The Anger of the Unprivileged Is Rising Globally May 26, 2016
The Choice For Venezuela Is Stark: Either Print Money and Fail or Establish Sound Money (USD to the Rescue?) May 25, 2016
The War on Cash Is a War on Your Freedom to Opt Out May 24, 2016
We're in the Eye of a Global Financial Hurricane May 23, 2016
What's Your Monthly Grocery Bill? Ours Is $218 May 20, 2016
Fed Up with the Fed May 19, 2016
Are Property Taxes a "Wealth Tax" on the (Mostly) Non-Wealthy? May 18, 2016
A Nation of Housing Haves and Have-Nots May 17, 2016
If Geography and Demographics Are Destiny, Who Will Be the Winners and Losers in 2025? May 16, 2016


May 2016 entries April 2016 entries March 2016 entries February 2016 entries January 2016 entries 2015 Archives Archives 2005-2014
---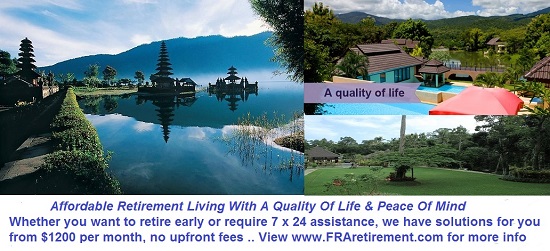 Discover why I'm looking to retire in a SE Asia luxury resort for $1,200/month.

---
Contributions/subscriptions are acknowledged in the order received. Your name and email remain confidential and will not be given to any other individual, company or agency. All contributors are listed below in acknowledgement of my gratitude.
| | | |
| --- | --- | --- |
| | Thank you, Ron G. ($5/month), for your sumptuously generous contribution to this site-- I am greatly honored by your steadfast support and readership. | |
---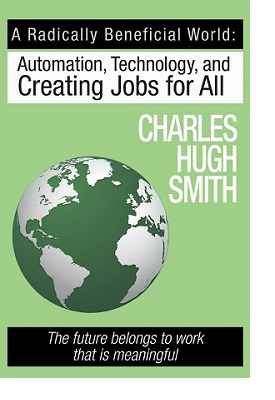 Kindle, $9.95
print, $25
Automation is upending the global order by eliminating human labor on an unprecedented scale--and the status quo has no solution to this wholesale loss of jobs.
What if we could hit the reset button on the way we create money, work, commerce and community? What if we could design a social economy rather than a merely financial one? These are not idle questions, for technology now enables us to hit that reset button and organize the creation of money, work, commerce and community in new ways.
If we could start from scratch, what would a new system look like? Clearly, we need a system that offers what the current system cannot: meaningful work for all.
This book is the practical blueprint of a new system that offers opportunities for meaningful work and ownership of the sources of prosperity not just to a few, but to everyone.
"Certainly the author is decades ahead of his time. Humanity will eventually adopt the author's principles written in all of his books. Currently, humanity lives in delusion that the system will continue to serve them. We will see massive changes even in the next decade. Don't waste your money on college--buy the author's books and succeed." Book Reader (via Amazon.com)
A radically beneficial world beckons—what are we waiting for? Introduction Chapter One (free PDF)
---
Get a Job, Build a Real Career and Defy a Bewildering Economy
(Kindle, $9.95)(print, $17.76)
audiobook, $19.95
(Audible.com)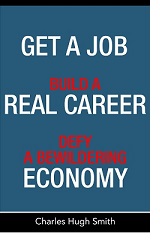 "Don't give this to a recent grad. Read it when your kids are born and then read it with them around eighth grade."
"Finally a book that gives practical career advice. The author does an excellent job describing the current economic and political system and how this affects employment opportunities. Times have changed dramatically, and will continue to do so faster than ever. I'm glad I stumbled upon this excellent book, and will begin preparing myself accordingly." Joseph
"I want to thank you for creating your book Get a Job. It is rare to find a person with a mind like yours, who can take a holistic systems view of things without being captured by specific perspectives or agendas. Your contribution to humanity is much appreciated." Laura Y. Test-drive the first section and see for yourself.


---
Of Two Minds Site Links
home musings my books archives books/films policies/disclosures social media/search Aphorisms How to Contribute, Subscribe/Unsubscribe sites/blogs of interest original music/songs Get a Job (book) contributors my definition of success why readers donate/subscribe to Of Two Minds mobile site (Blogspot) mobile site (m.oftwominds.com)