Why NIRP (Negative Interest Rates) Will Fail Miserably
February 12, 2016
What NIRP communicates is: this sucker's going down, so sell everything and hoard your cash and precious metals.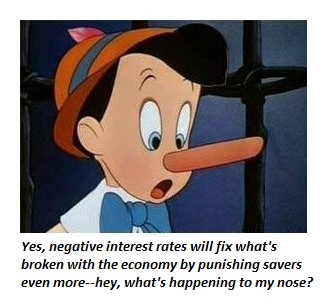 The last hurrah of central banks is the negative interest rate policy--NIRP. The basic idea of NIRP is to punish savers so severely that households and businesses will be compelled to go blow whatever money they have on something--what the money is squandered on is of no importance to central banks.
All that matters is that people and enterprises are forced to spend whatever cash they have rather than "hoard" it, i.e. preserve and conserve their capital.
That this is certifiably insane is self-evident. If an economy depends on bringing future spending into the present by destroying savings, that economy is doomed regardless of NIRP, for eventually the cash runs out and spending declines anyway.
But NIRP will fail completely and totally due to another dynamic-- one I addressed last month in Another Reason Why the Middle Class and the Velocity of Money Are in Terminal Decline. As correspondent Mike Fasano noted, negative interest rates force us to save even more, not less:
"People like me who have saved all their lives realize that they their savings (no matter how much) will never throw off enough money to allow retirement, unless I live off principal. This is especially so since one can reasonably expect social security to phased out, indexed out or dropped altogether. Accordingly, I realize that when I get to the point when I can no longer work, I'll be living off capital and not interest. This is an incentive to keep working and not to spend."
If banks start charging savers interest on their cash, savers will have to save even more income to offset the additional costs imposed by central banks on their savings.
A third dynamic dooms the insane negative interest rate policy: what does it say about the stability and health of the status quo if central banks are saying the only way to save the status quo is to force everyone to empty their piggy banks and spend every last dime of cash?
What exactly are we saving by destroying savings and capital? Isn't capital the foundation of capitalism? The answer is we are saving nothing but a rotten-to-the-core, parasitic, predatory banking system, coddled and enabled by corrupt central banks and states.
What NIRP says about central banks is that they have run out of options and are now in their own end zone, heaving the final desperate Hail Mary pass that has no hope of saving them from complete and total defeat.
NIRP also says the economy that needs NIRP is sick unto death and doomed to an implosion of impaired debt, over-leveraged risk-on bets and asset bubbles generated by stock buybacks and central bank purchases of risky assets.
The central bankers are delusional if they think NIRP will inspire confidence in investors, punters, households and enterprises. Rather, NIRP signals the failure of central bank policies and the end-game of credit expansion as the solution for all economic ills.
What NIRP communicates is: this sucker's going down, so sell everything and hoard your cash and precious metals. If that's what the central banks want households and enterprises to do, NIRP will be a rip-roaring success.
Admin note: I will be busy with family commitments until mid-month. As a result, blog posts will be sporadic and email responses will be near-zero. Thank you for your understanding.
---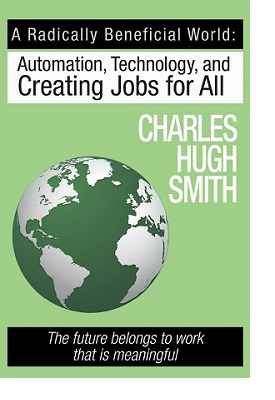 A Radically Beneficial World: Automation, Technology and Creating Jobs for All: The Future Belongs to Work That Is Meaningful (Kindle, $8.95)(print, $25).
The print edition is $25, but there's a $6 discount through my publisher's page for the book: use the code JPW86XRB to get the $6 discount. Note this does not include shipping, and requires purchasing through Createspace.
Here is the link to the book's Amazon.com listing, Introduction and Chapter One (free PDF).
"Certainly the author is decades ahead of his time. Humanity will eventually adopt the author's principles written in all of his books. Currently, humanity lives in delusion that the system will continue to serve them. We will see massive changes even in the next decade. Don't waste your money on college--buy the author's books and succeed." Book Reader (via Amazon.com)
---
Recent entries:
Why NIRP (Negative Interest Rates) Will Fail Miserably February 12, 2016
If You Want To Be Wealthy, Don't Focus on Owning a House--Build a Business February 11, 2016
How Systems Break: First They Slow Down February 10, 2016
If Knowledge Is Power, Is It Also Wealth? February 9, 2016
The Increasingly Fragile Upper-Middle Class February 8, 2016
The Chart of Doom: When Private Credit Stops Expanding... February 5, 2016
The Opaque Process of Collapse February 4, 2016
Why We Won't Have a "Lehman Moment" in the 2016 Crash February 3, 2016
The Global Economy Could Fall Farther and Faster Than Pundits Expect February 2, 2016
Stupor Bowl 2016 February 1, 2016


January 2016 entries 2015 Archives Archives 2005-2014
---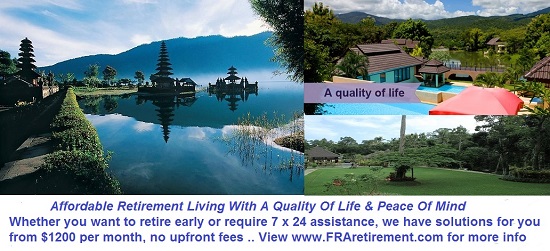 Discover why I'm looking to retire in a SE Asia luxury resort for $1,200/month.
---
Contributions/subscriptions are acknowledged in the order received. Your name and email remain confidential and will not be given to any other individual, company or agency. All contributors are listed below in acknowledgement of my gratitude.
| | | |
| --- | --- | --- |
| Thank you, Adam E. ($5/month), for your fantastically generous re-subscription to this site -- I am greatly honored by your steadfast support and readership. | | Thank you, Jay B. ($100), for your outrageously generous contribution to this site -- I am greatly honored by your steadfast support and readership. |
---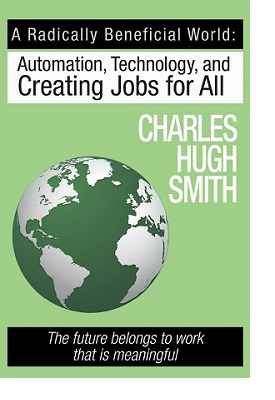 Kindle, $9.95
print, $25
Automation is upending the global order by eliminating human labor on an unprecedented scale--and the status quo has no solution to this wholesale loss of jobs.
What if we could hit the reset button on the way we create money, work, commerce and community? What if we could design a social economy rather than a merely financial one? These are not idle questions, for technology now enables us to hit that reset button and organize the creation of money, work, commerce and community in new ways.
If we could start from scratch, what would a new system look like? Clearly, we need a system that offers what the current system cannot: meaningful work for all.
This book is the practical blueprint of a new system that offers opportunities for meaningful work and ownership of the sources of prosperity not just to a few, but to everyone.
In this system, every individual has the power to change the system for the betterment of themselves and every other participant. Being at the top of the heap is no longer a prerequisite. Everyone who is powerless in the current arrangement is empowered in the new system. Empowered to not just better themselves and their family, but better their community and the larger community of Planet Earth.
A radically beneficial world beckons—what are we waiting for? Introduction Chapter One (free PDF)
---
Get a Job, Build a Real Career and Defy a Bewildering Economy
(Kindle, $9.95)(print, $17.76)
audiobook, $19.95
(Audible.com)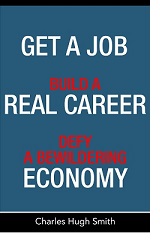 "Don't give this to a recent grad. Read it when your kids are born and then read it with them around eighth grade."
"Finally a book that gives practical career advice. The author does an excellent job describing the current economic and political system and how this affects employment opportunities. Times have changed dramatically, and will continue to do so faster than ever. I'm glad I stumbled upon this excellent book, and will begin preparing myself accordingly." Joseph
"I want to thank you for creating your book Get a Job. It is rare to find a person with a mind like yours, who can take a holistic systems view of things without being captured by specific perspectives or agendas. Your contribution to humanity is much appreciated." Laura Y. Test-drive the first section and see for yourself.


---
Of Two Minds Site Links
home musings my books archives books/films policies/disclosures social media/search Aphorisms How to Contribute, Subscribe/Unsubscribe sites/blogs of interest original music/songs Get a Job (book) contributors my definition of success why readers donate/subscribe to Of Two Minds mobile site (Blogspot) mobile site (m.oftwominds.com)