---

---
What's Cooking at Our House: Quiche
March 8, 2014

A quiche makes a nice meal for special occasions.
It's too time-consuming to be regular fare, but a quiche makes a nice meal for special occasions. For those who have making a pie crust down, it's no big deal, but for the rest of us it requires some real effort.
The filling is basically vegetables, eggs and a sprinkling of cheese. Here's one ready to go in the oven: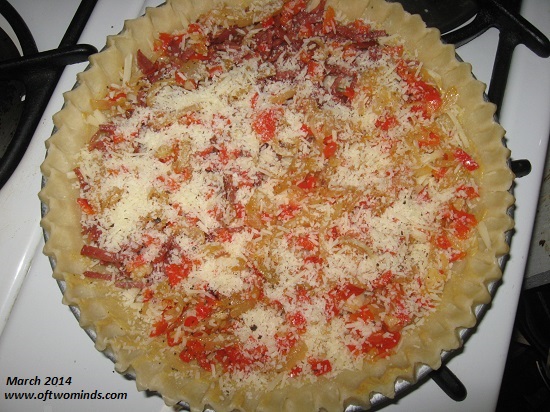 My wife made this quiche for our French side of the family during our visit last October. The crust is grated potato rather than wheat flour--a variation that would work well for those with gluten intolerance: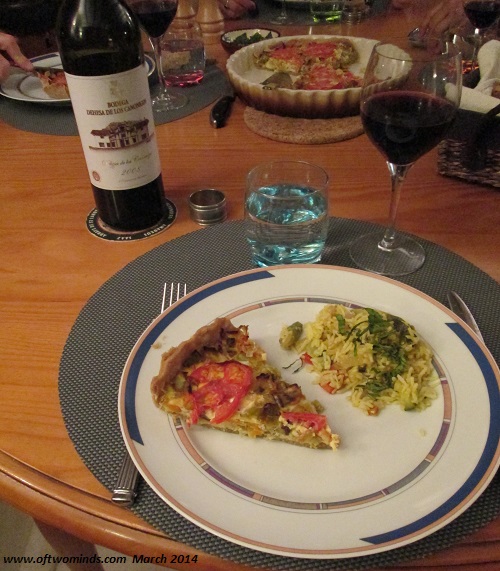 I know it sounds strange to the derealized mainstream, but "A healthy homecooked family meal and a home garden are revolutionary acts."
What does derealization mean? It means we have lost contact with the real deal-- real food, real work, real romance, real community, real thinking, even real experience, as our experience is shaped and our consent manufactured.
Though all my books address the politics of experience and derealization, Survival+ and Resistance, Revolution, Liberation develop the analysis most fully.
Growing food and preparing food are two anchors to the real world. Each is an act of caring and an engagement with the pleasures of living.
I am occasionally accused of being a smug elite for eating well. This reminds me of an old Dick Gregory joke in which he described the envy of an African-American worker's Anglo-American colleagues for his new Cadillac automobile. What the white guys didn't see, Gregory noted, was the Cadillac represented the daily sacrifice of 5,000 brown-bag lunches. The envious never see the sacrifices of others, they only see the positive result of 5,000 daily sacrifices and wonder why they can't have the same thing.
Having a garden and cooking are not as difficult as they're generally portrayed. They're the real deal, and that's their value, above and beyond all their other positive features.



The Nearly Free University and The Emerging Economy:
The Revolution in Higher Education
Reconnecting higher education, livelihoods and the economy
With the soaring cost of higher education, has the value a college degree been turned upside down? College tuition and fees are up 1000% since 1980. Half of all recent college graduates are jobless or underemployed, revealing a deep disconnect between higher education and the job market.
It is no surprise everyone is asking: Where is the return on investment? Is the assumption that higher education returns greater prosperity no longer true? And if this is the case, how does this impact you, your children and grandchildren?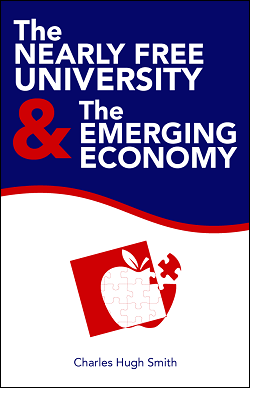 We must thoroughly understand the twin revolutions now fundamentally changing our world: The true cost of higher education and an economy that seems to re-shape itself minute to minute.
The Nearly Free University and the Emerging Economy clearly describes the underlying dynamics at work - and, more importantly, lays out a new low-cost model for higher education: how digital technology is enabling a revolution in higher education that dramatically lowers costs while expanding the opportunities for students of all ages.
The Nearly Free University and the Emerging Economy provides clarity and optimism in a period of the greatest change our educational systems and society have seen, and offers everyone the tools needed to prosper in the Emerging Economy.
---
Things are falling apart--that is obvious. But why are they falling apart?
The reasons are complex and global. Our economy and society have structural problems that cannot be solved by adding debt to debt. We are becoming poorer, not just from financial over-reach, but from fundamental forces that are not easy to identify. We will cover the five core reasons why things are falling apart: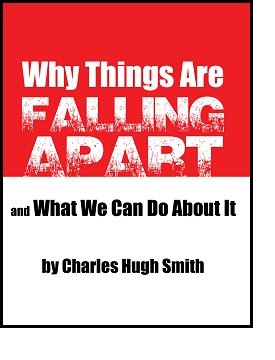 1. Debt and financialization
2. Crony capitalism
3. Diminishing returns
4. Centralization
5. Technological, financial and demographic changes in our economy
Complex systems weakened by diminishing returns collapse under their own weight and are replaced by systems that are simpler, faster and affordable. If we cling to the old ways, our system will disintegrate. If we want sustainable prosperity rather than collapse, we must embrace a new model that is Decentralized, Adaptive, Transparent and Accountable (DATA).
We are not powerless. Once we accept responsibility, we become powerful.
Read the Introduction/Table of Contents
HUGE GIANT BIG FAT DISCLAIMER: Nothing on this site should be construed as investment advice or guidance. It is not intended as investment advice or guidance, nor is it offered as such.... (read more)
WHY EMAIL TO THIS SITE IS READ BUT MAY NOT BE ACKNOWLEDGED: Regrettably, I am so sorely pressed for time and energy that I am unable to respond to the vast majority of emails. Please know I read all emails, but I can only devote a very limited number of hours to this blog and all correspondence....
---
Contributions and Subscriptions
Contributors and subscribers enable Of Two Minds to post 275+ free essays annually. It is for this reason they are Heroes and Heroines of New Media. Without your financial support, the free content would disappear for the simple reason that I cannot keep body and soul together on my meager book sales alone.
NOTE: Contributions/subscriptions are acknowledged in the order received. Your name and email remain confidential and will not be given to any other individual, company or agency. All contributors are listed below in acknowledgement of my gratitude.

---
| | | |
| --- | --- | --- |
| Thank you, Karen G. ($50), for your astonishingly generous contribution to this site -- I am greatly honored by your steadfast support and readership. | | Thank you, James P. ($50), for your outstandingly generous contribution to this site -- I am greatly honored by your steadfast support and readership. |
---
SPECIAL APPEAL TO READERS OF OFTWOMINDS
from longtime correspondent Cheryl A.:
Charles has warned and informed us about the collapse in housing, peak oil, international affairs and a wide variety of other subjects, including the long-term societal changes that we face.

His analyses/advisories are uncannily prescient and are generally followed several weeks, months, or years later by news stories in the general press that are offered too late to provide protection to a misled/uninformed public.

I am unaware of any other website that provides such broad based commentary with such a level of accuracy.

If you could find an analyst or financial advisor with the depth of knowledge Charles possesses, you would have to pay a handsome sum for the information that he writes about daily.

If you are one of the many readers of oftwominds who has benefitted in any way from the information you receive at this site, I hope that you will make a donation to help keep OTM going. This is one resource we cannot afford to lose!
Thank you, Cheryl, for this vote of confidence.
I can only promise that I will continue to do my best.
---