Financialization and The Destruction of the Real Economy
September 20, 2017
Strip an economy of capital, productive incentives, talent and yes, ethics, and what are we left with? An economy spiraling toward an inevitable collapse.
Financialization is destroying the real economy, but few in power seem to notice or care. The reason why is painfully obvious: those in power are reaping vast fortunes from the engines of financialization--for example, former President Obama: Obama Goes From White House to Wall Street in Less Than One Year.
This is not to single out President Obama as a special case; politicos across the spectrum depend on the engines of financialization to fund their campaigns and make them multi-millionaires, and corporate managers and financiers have skimmed billions of dollars in gains not from producing new, better and more affordable goods and services but by playing financialization games such as borrowing billions to buy back stocks, leveraged buyouts, and so on--all of which have reaped the insiders gargantuan fortunes while hollowing out the real economy.
Financialization necessarily hollows out the real economy, as Gordon Long and I detail in this new video program: The Results of Financialization - Part I (34 minutes)
The key dynamic is that financialization creates irresistible incentives to ramp up debt and leverage at the expense of the real economy. Those who fail to exploit financialization will underperform the market and be fired.
As Gordon explains, if a CEO refuses to load a company up with debt, a private-equity financier with access to cheap Federal Reserve credit will scoop up the company in a private buyout, fire the management, extract immense profits by loading the company with debt, then take the hollowed-out shell public again, reaping another windfall of financialized gains.
Note that the private-equity financiers have every incentive to lay off employees, especially experienced workers who earn higher salaries, to reduce costs before they take the hollowed-out shell public.
How can corporations pay out more to shareholders than they actually earned? Easy--financialization.
Another key dynamic in financialization is limitless liquidity and super low interest rates set by central banks--rates that are so low and liquidity so abundant that corporations can roll over their debt and actually add more debt and keep their interest payments unchanged.
This dynamic inevitably leads to zombie corporations--corporations with low rates of growth and profitability and high debt loads that in an unfinancialized economy would be recognized as insolvent and liquidated.
As we explain, financialization skews the risk-reward in favor of financial games, so real-world investments no longer make sense. Why risk building a factory in the U.S. or training workers when the pay-off is uncertain, when there are so many ways to reap immense fortunes via financial games that are ultimately backstopped by the Federal Reserve or federal agencies (i.e. the taxpayers)?
As many observers have noted, these perverse incentives have siphoned human talent away from productive employment and into enormously well-compensated but parasitic, exploitive financialization-related jobs.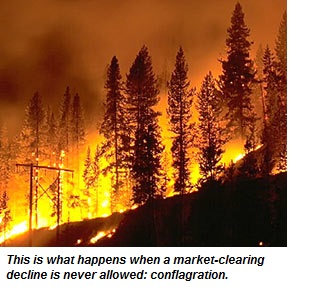 Strip an economy of capital, productive incentives, talent and yes, ethics, and what are we left with? An economy spiraling toward an inevitable collapse. The metaphor I've used to explain this in the past is the Yellowstone forest fire. The deadwood of bad debt, extreme leverage, zombie companies and all the other fallen branches of financialization pile up, but the central banks no longer allow any creative destruction of unpayable debt and mis-allocated capital; every brush fire is instantly suppressed with more stimulus, more liquidity and lower interest rates.
As a result, the deadwood sapping the real economy of productivity and innovation is allowed to pile higher.
The only possible output of this suppression is an economy piled high with explosive risk. Eventually Nature supplies a lightning strike, and the resulting conflagration consumes the entire economy.
The Yellowstone Analogy and The Crisis of Neoliberal Capitalism (May 18, 2009)
The Financial Markets Now Control Everything (April 29, 2015)
I explain all this in greater detail in my short book Why Our Status Quo Failed and Is Beyond Reform.


If you found value in this content, please join me in seeking solutions by becoming a $1/month patron of my work via patreon.com.
Check out both of my new books, Inequality and the Collapse of Privilege ($3.95 Kindle, $8.95 print) and Why Our Status Quo Failed and Is Beyond Reform ($3.95 Kindle, $8.95 print, $5.95 audiobook) For more, please visit the OTM essentials website.
---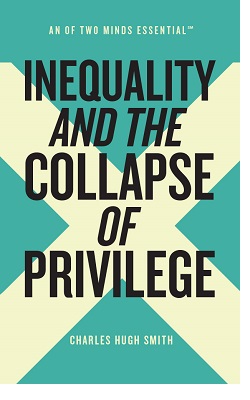 Inequality is rising globally, and rising inequality is destabilizing. A status quo of increasing inequality self-destructs. To avoid this fate, we must answer this question: why is the gulf between the wealthy and everyone else widening so dramatically?
The answer boils down to one word: privilege.
What is privilege? There are many types of privilege, but they all share two characteristics: privilege delivers benefits, wealth and power that are unearned.
Privilege is destabilizing for many reasons: the dead weight of privilege reduces productivity, generates perverse incentives and fuels social injustice. Innovation and competition are threats to privileged monopolies and are therefore suppressed.
The only way to foster sustainable stability is to dismantle institutionalized privilege.
We have a moral imperative to eradicate privilege: privilege is immoral, as rising inequality is the only possible output of privilege. Privilege is exploitive, parasitic, predatory and destructive to the society and economy, and generates inequality by its very nature.
Stripped to its essence, privilege is nothing but institutionalized racketeering.
The only way to reverse rising inequality is to eradicate its source: privilege.
Inequality and the Collapse of Privilege ($3.95 Kindle ebook, $8.95 print edition)
---
Recent entries:
Financialization and The Destruction of the Real Economy September 20, 2017
What Is Real Wealth? September 19, 2017
Are Facebook and Google the New Colonial Powers? September 18, 2017
Hey Advertisers: The Data-Mining Emperor Has No Clothes September 15, 2017
Dear Jamie Dimon: Predict the Crash that Takes Down Your Produces-Nothing, Parasitic Bank and We'll Listen to your Bitcoin "Prediction" September 14, 2017
Yes, This Time It Is Different: But Not in Good Ways September 13, 2017
Housing Bubble Symmetry: Look Out Below September 12, 2017
On Repairing/Rebuilding 100,000+ Damaged Houses September 11, 2017
The Real Reason Wages Have Stagnated: Our Economy is Optimized for Financialization September 8, 2017
Is the High Cost of Housing Crushing Wages? September 7, 2017
The Insanity of Pushing Inflation Higher When Wages Can't Rise September 6, 2017
The Trouble with Asset Bubbles: If You Stop Pumping, They Pop September 5, 2017
Bitcoin, Sour Grapes and the Institutional Herd September 4, 2017
Why We're Doomed: Stagnant Wages September 1, 2017
Why Wages Have Lost Ground in the 21st Century August 31, 2017
Systemic Uncertainty, Meet Fragility August 30, 2017
The 5 Steps to World Domination August 29, 2017
Ideology as Addiction August 28, 2017


August 2017 July 2017 June 2017 May 2017 April 2017 March 2017 February 2017 January 2017 2016 Archives 2015 Archives Archives 2005-2016
---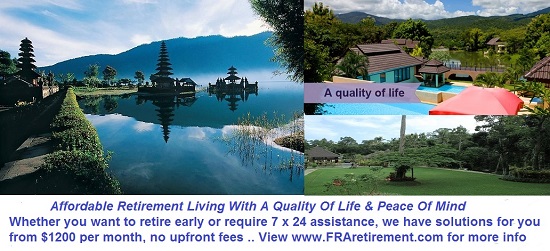 Discover why I'm looking to retire in a SE Asia luxury resort for $1,200/month.

---
Contributions/subscriptions are acknowledged in the order received. Your name and email remain confidential and will not be given to any other individual, company or agency. All contributors are listed below in acknowledgement of my gratitude.
| | | |
| --- | --- | --- |
| Thank you, Victor H. ($15), for your most generous contribution to this site -- I am greatly honored by your support and readership. | | Thank you, Alexandra B. ($5/month), for your magnificently generous subscription to this site -- I am greatly honored by your support and readership. |
---
---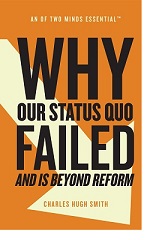 Our status quo--the pyramid of wealth and power dominated by the few at the top--has failed and is beyond reform.
This failure is not rooted in superficial issues such as politics or governmental regulations; the failure is structural.
The very foundation of the status quo has rotted away, and brushing on another coat of reformist paint will not save our societal house from collapse.
Yet those who benefit from our status quo naturally deny it has failed, for the reason that it has yet to fail them personally—either pretending to not understand that all unsustainable systems eventually collapse, or hoping to postpone it.
Our status quo is not only failing to solve humanity's six core problems--it has become the problem.
Since this failure is now inevitable, something is coming to replace it.
Why Our Status Quo Failed and Is Beyond Reform ($3.95 Kindle ebook, $8.95 print edition, $5.95 audiobook)


---
A Radically Beneficial World
: Automation, Technology & Creating Jobs for All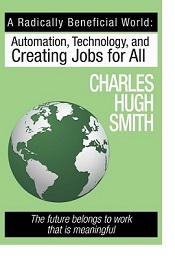 Kindle $9.95
print $25
audiobook $18
Automation is upending the global order by eliminating human labor on an unprecedented scale--and the status quo has no solution to this wholesale loss of jobs.
What if we could hit the reset button on the way we create money, work, commerce and community? What if we could design a social economy rather than a merely financial one? These are not idle questions, for technology now enables us to hit that reset button and organize the creation of money, work, commerce and community in new ways.
If we could start from scratch, what would a new system look like? Clearly, we need a system that offers what the current system cannot: meaningful work for all.
This book is the practical blueprint of a new system that offers opportunities for meaningful work and ownership of the sources of prosperity not just to a few, but to everyone.
A radically beneficial world beckons—what are we waiting for? Introduction Chapter One (free PDF)
---
Get a Job, Build a Real Career and Defy a Bewildering Economy
(Kindle, $9.95)(print, $17.76)
audiobook, $19.95
(Audible.com)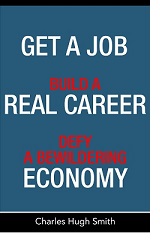 "Don't give this to a recent grad. Read it when your kids are born and then read it with them around eighth grade."
"Finally a book that gives practical career advice. The author does an excellent job describing the current economic and political system and how this affects employment opportunities. Times have changed dramatically, and will continue to do so faster than ever. I'm glad I stumbled upon this excellent book, and will begin preparing myself accordingly." Joseph
"I want to thank you for creating your book Get a Job. It is rare to find a person with a mind like yours, who can take a holistic systems view of things without being captured by specific perspectives or agendas. Your contribution to humanity is much appreciated." Laura Y. Test-drive the first section and see for yourself.
---
---
Of Two Minds Site Links
home musings my books archives books/films policies/disclosures social media/search Aphorisms How to Contribute, Subscribe/Unsubscribe sites/blogs of interest original music/songs Get a Job (book) contributors my definition of success why readers donate/subscribe to Of Two Minds mobile site (Blogspot) mobile site (m.oftwominds.com)