---

---
The Fed Has Failed the Nation, in One Chart
March 31, 2015

There is only one way to end the financial tyranny of the Federal Reserve--abolish it, and put an end to the predatory pathologies of its policies.
The Federal Reserve has failed not just the nation and the U.S. economy, but more importantly, the American people that it supposedly serves. It has also failed the world, by showing other central banks that they can reward private banks and top .01% with absolute impunity.
The supposed goal of the Fed's zero-interest rate policy (ZIRP) and quantitative easing (QE) was to make borrowing easier for both corporations and consumers, the idea being companies would borrow to invest in new productive capacity and consumers would buy the new goods and services being produced with cheap credit.
The secondary publicly stated goal was to spark a rally in stocks, bonds and real estate that would spark a wealth effect: as households saw their net worth rise, they would feel wealthier and thus more likely to buy goods and services they didn't need on credit.
The real reason for ZIRP and QE was to rebuild the balance sheets and profits of banks on the backs of savers who have earned near-zero thanks to the Fed's manipulation of markets. But setting aside the obvious success of the Fed's real goals--enriching the banks and the super-wealthy who have access to near-zero interest credit--let's see what corporations did with the Fed's nearly-free money.
Did they invest in new productive capacity? No, they bought back their own stocks--trillions of dollars worth, to boost stock prices and managerial bonuses. Note what happened when the last stock buyback binge faded: stocks crashed.
The great stock buyback binge (Fortune.com)
The Fed's free money for financiers enriched the top layer of corporate management and the top 1% who own most of the nation's equities. You can read the details here: Factset Buyback Quarterly.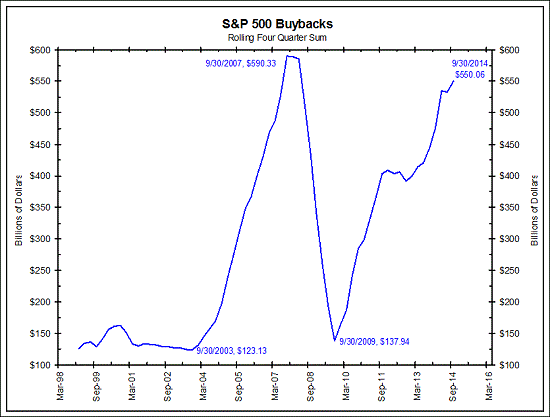 The other group of financiers with access to the Fed's free money for financiers has been private equity. So did the private equity multi-millionaires borrow the Fed's largesse to build new plant and hire new employees? Did they invest the borrowed billions in productive startups?
No--they used the money to buy existing companies and bleed them dry. The Glory Days of Private Equity Are Over (Via Mark G.),
private equity has been holding back the economy. When you buy out a drugstore chain or car-rental company and load it with debt, you aren't investing in the productivity of the economy. More often, by cutting back on new products and services, you are removing productivity from the economy. While generating wealth for endowments and pension funds, private equity can destroy wealth in the economy—my guess is 0.5%-1% lower gross domestic product in an already subpar recovery.
There you have it: the Fed has lowered productivity and GDP and stripmined savers, widows and orphans to further enrich the obscenely wealthy. Recall this from my entry last week, Will Cash Always Be Trash, Or Will It One Day Be King?
Between 2009 and 2012, the first years of the economic recovery, the top 1% saw their incomes climb 31.4% — or, 95% of the total gain — while the bottom 99% saw growth of 0.4%.
There is only one way to end the financial tyranny of the Federal Reserve--abolish it, and put an end to the predatory pathologies of its policies.


---
---
Get a Job, Build a Real Career and Defy a Bewildering Economy
(Kindle, $9.95)(print, $17.76)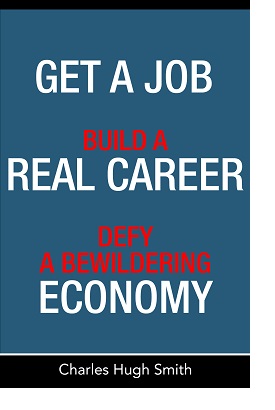 Are you like me?
Ever since my first summer job decades ago, I've been chasing financial security. Not win-the-lottery, Bill Gates riches (although it would be nice!), but simply a feeling of financial control. I want my financial worries to if not disappear at least be manageable and comprehensible.
And like most of you, the way I've moved toward my goal has always hinged not just on having a job but a career.
You don't have to be a financial blogger to know that "having a job" and "having a career" do not mean the same thing today as they did when I first started swinging a hammer for a paycheck.
Even the basic concept "getting a job" has changed so radically that jobs--getting and keeping them, and the perceived lack of them--is the number one financial topic among friends, family and for that matter, complete strangers.
So I sat down and wrote this book: Get a Job, Build a Real Career and Defy a Bewildering Economy.
It details everything I've verified about employment and the economy, and lays out an action plan to get you employed.
I am proud of this book. It is the culmination of both my practical work experiences and my financial analysis, and it is a useful, practical, and clarifying read.
Test-drive the first section and see for yourself. Kindle, $9.95 print, $17.76
"I want to thank you for creating your book Get a Job, Build a Real Career and Defy a Bewildering Economy. It is rare to find a person with a mind like yours, who can take a holistic systems view of things without being captured by specific perspectives or agendas. Your contribution to humanity is much appreciated."
Laura Y.
Gordon Long and I discuss The New Nature of Work: Jobs, Occupations & Careers (25 minutes, YouTube)
---
---
HUGE GIANT BIG FAT DISCLAIMER: Nothing on this site should be construed as investment advice or guidance. It is not intended as investment advice or guidance, nor is it offered as such.... (read more)
WHY EMAIL TO THIS SITE IS READ BUT MAY NOT BE ACKNOWLEDGED: Regrettably, I am so sorely pressed for time and energy that I am unable to respond to the vast majority of emails. Please know I read all emails, but I can only devote a very limited number of hours to this blog and all correspondence....
---

This Month's entries:
Contributions and Subscriptions
Contributors and subscribers enable Of Two Minds to post 275+ free essays annually. It is for this reason they are Heroes and Heroines of New Media. Without your financial support, the free content would disappear for the simple reason that I cannot keep body and soul together on my meager book sales alone.
NOTE: Contributions/subscriptions are acknowledged in the order received. Your name and email remain confidential and will not be given to any other individual, company or agency. All contributors are listed below in acknowledgement of my gratitude.

---
| | | |
| --- | --- | --- |
| | Thank you, Luther A. ($10/month), for your outrageously generous subscription to this site-- I am greatly honored by your support and readership. | |
---
SPECIAL APPEAL TO READERS OF OFTWOMINDS
from longtime correspondent Cheryl A.:
I don't recall exactly how I discovered Of Two Minds in late 2005, but it is hard to express how grateful I am that I did. As a result of the insight I have gained from the information Charles has shared over these past 9 years, I have been able to navigate this turbulent period much more successfully than most of my acquaintances. I'm sure that those of you who visit OTM with any regularity have similarly benefitted in numerous ways.

The addition of the weekly musings has been an extra bonus for supporters that has provided further insight into the markets, as well as the world around us (often providing a much needed smile).

I have no doubt that those who generously contribute to this site recognize the value that it offers. I hope that those of you who visit, but have not yet contributed, will consider doing so. Your support is essential in helping to maintain such an important resource.

10/20/14 P.S. Over a year ago, Charles wrote about the coming rise in the dollar, a story that is just now gaining traction in the mainstream media. He was also early to recognize that the price of oil was going to fall. For readers who want foresight into where we are headed, these are further examples of why Charles deserves your support.
Thank you, Cheryl, for this vote of confidence.
I can only promise that I will continue to do my best.
---