Our Landfill Economy
October 27, 2016
This "maximizing growth and profits is the highest good" mode of production is insane.
Correspondent Bart D. (Australia) captured the entire global economy in three words: The Landfill Economy. Stuff is manufactured, energy is consumed shipping it somewhere, consumers buy it and shortly thereafter it ends up as garbage in the landfill.
This is of course the definition of "economic growth": waste, inefficiency, environmental destruction--none of these matter. Only two things matter: maximize "growth" by any means necessary, and maximize profits by any means necessary.
The Landfill Economy now encompasses the entire planet. The swirling gyre of plastic trash the size of Texas between Hawaii and California: it's just one modest example of the planetary trash dump that "growth" and profit generate as byproducts/blowback.
The planet's oceans are one giant trash dump. Everything from plastic water bottles to abandoned fishing nets to radiation to containers that fell off ships is floating around even the most distant corners of the seas. Seabirds nesting in remote islands die of starvation as their guts fill with plastic bits of "permanent growth."
Globalization has turned the planet's land masses and rivers into trash dumps. Want to make a quick profit along a tropical sea coast? Dig some big holes near the coast, dump in baby prawns, food and chemicals to suppress algae blooms and diseases and then harvest the prawns to ship to the insatiable markets of the developed world.
Once the prawn farms are poisoned wastelands, move on and despoil another coastline elsewhere.
Globalization has greased the slippery slope from factory to landfill by enabling the global distribution of defective parts. Whether they are pirated, designed to fail or just the result of slipshod quality control, the flood of defective parts guarantee that the entire assembly they are installed in--stoves, vacuum cleaners, transmissions, electronics, you name it--will soon fail and be shipped directly to the landfill, as repairing stuff is far costlier than buying a new replacement.
QE/ZIRP Is Crushing the Global Supply Chain, Product Quality and Profits (October 17, 2016)
The Keynesian Cargo Cults that rule global economics love The Landfill Economy because it means more "growth". Never mind the poisoned seas, rivers and land, or the immense waste of energy, commodities and labor that result from the global manufacture and distribution of shoddy products: if it adds to "growth," it's all good in the warped view of the Keynesian Cargo Cults.
We got your "growth" right here.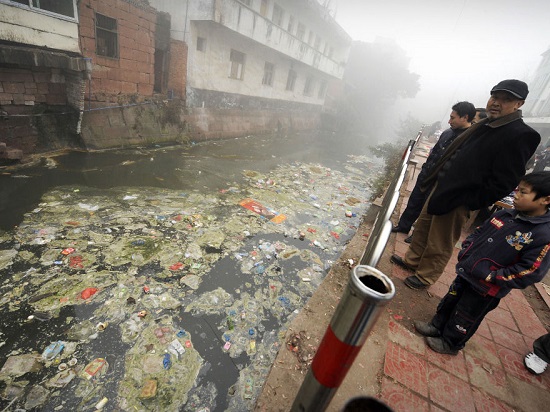 People are also tossed on the trash heap with careless abandon. The health of workers is a cost that reduces profits, so it's ignored unless it can be turned into a profit center via state funding for managing preventable diseases, i.e. sickcare.
A worker sickened by industrial waste or lifestyle illnesses who becomes a profit center is a wonderful source of "growth" and profits.
A worker who can't generate a corporation or state a profit is dumped on the trash heap as a matter of routine. A worker who can't generate somebody a profit or "growth" by taking on more debt to spend spend spend is worthless.
If a robot or software can do the same work, then it is self-destructive for an enterprise to pay a human worker: if profits fall, Wall Street will crucify the enterprise and competitors will eat it alive.
This "maximizing growth and profits is the highest good" mode of production is insane. It doesn't have to rule the world. As I outline in my book A Radically Beneficial World: Automation, Technology & Creating Jobs for All, other more efficient, sustainable and humane modes of production are within reach if we escape from the global grip of the destructive "growth by any means" cult.


Join me in seeking solutions by becoming a $1/month patron of my work via patreon.com.
My new book is #8 on Kindle short reads -> politics and social science: Why Our Status Quo Failed and Is Beyond Reform ($3.95 Kindle ebook, $8.95 print edition) For more, please visit the book's website.
---
---
Recent entries:
Our Landfill Economy October 27, 2016
Don't Diss the Dark Ages October 26, 2016
The Secrets of Self-Employment: Overhead and Capital Accumulation October 25, 2016
Two Sets of Solutions as the Status Quo Crumbles October 24, 2016
Welcome to Neocolonialism, Exploited Peasants! October 21, 2016
The Ruling Elite Has Lost the Consent of the Governed October 20, 2016
What Happens When the Electricity Is Off for Three Days? October 19, 2016
What Triggers Collapse? October 18, 2016
QE/ZIRP Is Crushing the Global Supply Chain, Product Quality and Profits October 17, 2016



October 2016 September 2016 August 2016 July 2016 June 2016 May 2016 April 2016 March 2016 February 2016 January 2016 2015 Archives Archives 2005-2016
---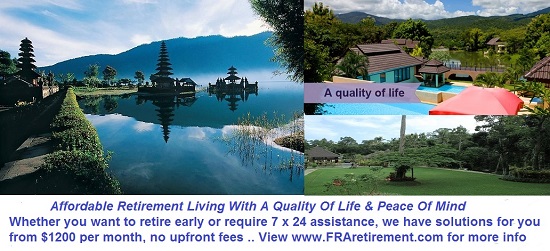 Discover why I'm looking to retire in a SE Asia luxury resort for $1,200/month.

---
Contributions/subscriptions are acknowledged in the order received. Your name and email remain confidential and will not be given to any other individual, company or agency. All contributors are listed below in acknowledgement of my gratitude.
| | | |
| --- | --- | --- |
| | Thank you, Felix B. ($5/month), for your superbly generous pledge to this site-- I am greatly honored by your support and readership. | |
---
---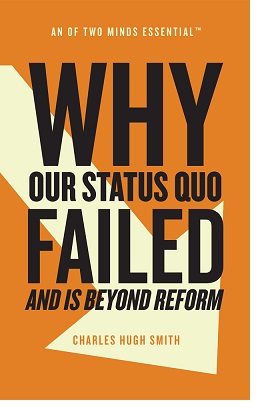 Our status quo--the pyramid of wealth and power dominated by the few at the top--has failed and is beyond reform.
This failure is not rooted in superficial issues such as politics or governmental regulations; the failure is structural.
The very foundation of the status quo has rotted away, and brushing on another coat of reformist paint will not save our societal house from collapse.
Yet those who benefit from our status quo naturally deny it has failed, for the reason that it has yet to fail them personally—either pretending to not understand that all unsustainable systems eventually collapse, or hoping to postpone it.
Our status quo is not only failing to solve humanity's six core problems--it has become the problem.
Since this failure is now inevitable, something is coming to replace it.
Why Our Status Quo Failed and Is Beyond Reform ($3.95 Kindle ebook, $8.95 print edition)


---
A Radically Beneficial World
: Automation, Technology & Creating Jobs for All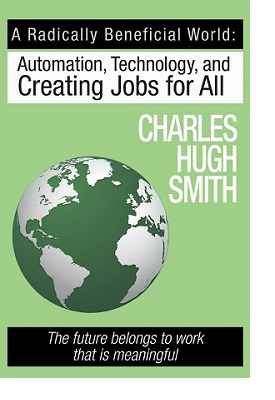 Kindle $9.95
print $25
audiobook $18
Automation is upending the global order by eliminating human labor on an unprecedented scale--and the status quo has no solution to this wholesale loss of jobs.
What if we could hit the reset button on the way we create money, work, commerce and community? What if we could design a social economy rather than a merely financial one? These are not idle questions, for technology now enables us to hit that reset button and organize the creation of money, work, commerce and community in new ways.
If we could start from scratch, what would a new system look like? Clearly, we need a system that offers what the current system cannot: meaningful work for all.
This book is the practical blueprint of a new system that offers opportunities for meaningful work and ownership of the sources of prosperity not just to a few, but to everyone.
A radically beneficial world beckons—what are we waiting for? Introduction Chapter One (free PDF)
---
Get a Job, Build a Real Career and Defy a Bewildering Economy
(Kindle, $9.95)(print, $17.76)
audiobook, $19.95
(Audible.com)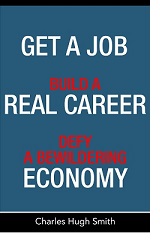 "Don't give this to a recent grad. Read it when your kids are born and then read it with them around eighth grade."
"Finally a book that gives practical career advice. The author does an excellent job describing the current economic and political system and how this affects employment opportunities. Times have changed dramatically, and will continue to do so faster than ever. I'm glad I stumbled upon this excellent book, and will begin preparing myself accordingly." Joseph
"I want to thank you for creating your book Get a Job. It is rare to find a person with a mind like yours, who can take a holistic systems view of things without being captured by specific perspectives or agendas. Your contribution to humanity is much appreciated." Laura Y. Test-drive the first section and see for yourself.
---
---
Of Two Minds Site Links
home musings my books archives books/films policies/disclosures social media/search Aphorisms How to Contribute, Subscribe/Unsubscribe sites/blogs of interest original music/songs Get a Job (book) contributors my definition of success why readers donate/subscribe to Of Two Minds mobile site (Blogspot) mobile site (m.oftwominds.com)