---

---
The Underbelly of Corporate America: Insider Selling, Stock Buy-Backs, Dodgy Profits
September 2, 2014

The hollowing out of corporate strengths to enable short-term profiteering by the handful at the top leads to systemic fragility.
Anonymous comments on message boards must be taken with a grain of salt, but this comment succinctly captures the underbelly of Corporate America: massive insider selling, borrowing billions to buy back their own stocks to push valuations to the moon so shares granted as compensation can be sold for a fortune, and dodgy accounting strategies that boost headline profits and hide the gutting of investments in long-term growth.
Here's the comment:
"I'm occupying a vantage point that allows me to see what is going on inside the top Fortune 50 companies. I have never seen such rot before. Of the 50, at least 30 have debt at 120% of cash. Most have cut capex, R&D and maintenance by 80%. Most have been borrowing money to do stock buy-backs, while simultaneously selling off business units and doing layoffs.
Of the 50, at least 20 have 100% insider selling. For some, you would have to go back decades to find a point where all of the acting board of directors are selling. In essence, they are paying the mortgage with their credit cards. Without bookkeeping games, there are no solid earnings. There will be no earnings growth.
"Executive compensation based on stock performance" is killing corporate America.
A black swan is not needed to make it fall, a gentle breeze will do just fine."
(source message thread)
So let's try contesting these points.
Where is the data showing insiders buying hand over fist at these valuations?
Insider selling has been raising red flags since March 2014: In-the-know insiders are dumping stocks
Where is the data proving Corporate America isn't borrowing billions of dollars and using the nearly-free money to buy back shares? Buying back shares reduces the float (stocks available for purchase by the public), reducing supply and creating demand which pushes prices higher.
Stocks' Biggest Gains Are an Inside Job: Companies spent $598.1 billion on stock buybacks last year, according to Birinyi Associates in Westport, Conn. That was the second highest annual total in history, behind only 2007, Birinyi calculated. The pace picked up in the first quarter of 2014, when companies spent $188 billion, the highest quarterly amount since 2007.
Where is the data showing Corporate America has added jobs?
Who actually creates jobs: Start-ups, small businesses or big corporations? During the 1990s, American multinational companies added 2.7 million jobs in foreign countries and 4.4 million in the United States. But over the following decade, those firms continued adding positions overseas (another 2.4 million) while cutting 2.9 million jobs in the United States.
As for dodgy accounting: when the dodgy accounting has been institutionalized, it's no longer viewed as dodgy. Which brings us to the money shot of the comment: "Executive compensation based on stock performance" is killing corporate America.
When executives and others at the top of the corporate pyramid have such an enormous incentive (stock options worth tens of millions of dollars) if they can push the stock price higher with buy-backs paid with borrowed money and accounting gimmicks that inflate headline earnings, then why wouldn't they do precisely that?
The profits are as bogus as the stock prices: both are relentlessly gamed to make sure fortunes can be reaped in a few years by those at the top.
As the comment noted, this hollowing out of corporate strengths to enable short-term profiteering by the handful at the top leads to systemic fragility. No shock is needed to bring down these fragile corporate structures: existing debt and the slightest tremor of global recession will be enough to topple the rickety facade.


---
---
Get a Job, Build a Real Career and Defy a Bewildering Economy
(Kindle, $9.95)(print, $17.76)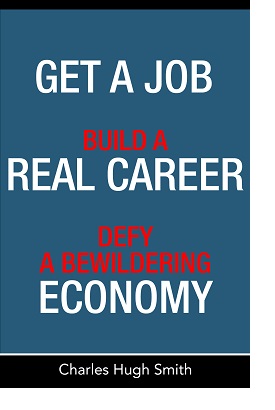 Are you like me?
Ever since my first summer job decades ago, I've been chasing financial security. Not win-the-lottery, Bill Gates riches (although it would be nice!), but simply a feeling of financial control. I want my financial worries to if not disappear at least be manageable and comprehensible.
And like most of you, the way I've moved toward my goal has always hinged not just on having a job but a career.
You don't have to be a financial blogger to know that "having a job" and "having a career" do not mean the same thing today as they did when I first started swinging a hammer for a paycheck.
Even the basic concept "getting a job" has changed so radically that jobs--getting and keeping them, and the perceived lack of them--is the number one financial topic among friends, family and for that matter, complete strangers.
So I sat down and wrote this book: Get a Job, Build a Real Career and Defy a Bewildering Economy.
It details everything I've verified about employment and the economy, and lays out an action plan to get you employed.
I am proud of this book. It is the culmination of both my practical work experiences and my financial analysis, and it is a useful, practical, and clarifying read.
Test-drive the first section and see for yourself. Kindle, $9.95 print, $17.76
"I want to thank you for creating your book Get a Job, Build a Real Career and Defy a Bewildering Economy. It is rare to find a person with a mind like yours, who can take a holistic systems view of things without being captured by specific perspectives or agendas. Your contribution to humanity is much appreciated."
Laura Y.
Gordon Long and I discuss The New Nature of Work: Jobs, Occupations & Careers (25 minutes, YouTube)
---
---
HUGE GIANT BIG FAT DISCLAIMER: Nothing on this site should be construed as investment advice or guidance. It is not intended as investment advice or guidance, nor is it offered as such.... (read more)
WHY EMAIL TO THIS SITE IS READ BUT MAY NOT BE ACKNOWLEDGED: Regrettably, I am so sorely pressed for time and energy that I am unable to respond to the vast majority of emails. Please know I read all emails, but I can only devote a very limited number of hours to this blog and all correspondence....
---
This Month's entries:
The Underbelly of Corporate America: Insider Selling, Stock Buy-Backs, Dodgy Profits
September 2, 2014
Labor Day 2014: In Praise of Messiness
September 1, 2014


Is There Capitalism After Cronyism?
August 30, 2014
Can a National Quasi-Religion (Pro Sports) Go Broke?
August 29, 2014
The Housing Echo-Bubble Is Popping
August 28, 2014
Why Artifice Rules the World: We Have No Choice
August 27, 2014
It's Not Just Politics That's Broken--The Status Quo's Model of "How the World Works" Is Broken
August 26, 2014
The New Misery Index
August 25, 2014
Is the $5 Bill the New $1 Bill?
August 23, 2014
Why the Fed Must Taper
August 22, 2014
The Crazy-Making Fed
August 21, 2014
The Housing Bubble's Silver Lining
August 20, 2014
Are Capital Inflows Propping Up U.S. Markets?
August 19, 2014
Don't Think It Won't Happen Just Because It Hasn't Happened Yet: Loss of Faith in the Fed
August 18, 2014
Have We Forgotten What an Authentic Market Is?
August 16, 2014
Is Collapse the Only Real "Fix" to Our Healthcare and Legal Systems?
August 15, 2014
Are There No Hard Limits on Financial Finagling?
August 14, 2014
We're Relying on Phantom Wealth to Fund Our Retirement
August 13, 2014
It's Not Just Healthcare That's Bankrupt--It's Our Legal System, Too
August 12, 2014
Here's Why Wages Might Rise Despite Millions of Unemployed Being Available for Work
August 11, 2014
The Joys of Being Productive
August 9, 2014
A Brief Note on the Difference Between Trading and Investing
August 8, 2014
Is This Decline the Real Deal?
August 7, 2014
What Are the Options for Those Who Can't/Won't Get a Corporate/Government Job?
August 6, 2014
How Economies Collapse: Systemic Friction and Debt Are Self-Liquidating
August 5, 2014
The Slide to Collapse Is Greased with Self-Interest
August 4, 2014
It Doesn't Take Much Land to Grow A Lot of Food
August 2, 2014
Why Wait for the Shoe to Hit the Floor? The Case for Selling Now
August 1, 2014


July 2014 entries
Contributions and Subscriptions
Contributors and subscribers enable Of Two Minds to post 275+ free essays annually. It is for this reason they are Heroes and Heroines of New Media. Without your financial support, the free content would disappear for the simple reason that I cannot keep body and soul together on my meager book sales alone.
NOTE: Contributions/subscriptions are acknowledged in the order received. Your name and email remain confidential and will not be given to any other individual, company or agency. All contributors are listed below in acknowledgement of my gratitude.

---
| | | |
| --- | --- | --- |
| Thank you, Jim G. ($100), for your outrageously generous contribution to this site -- I am greatly honored by your support and readership. | | Thank you, Thomas M. ($25), for your most-excellently generous contribution to this site -- I am greatly honored by your support and readership. |
---
SPECIAL APPEAL TO READERS OF OFTWOMINDS
from longtime correspondent Cheryl A.:
I don't recall exactly how I discovered Of Two Minds in late 2005, but it is hard to express how grateful I am that I did. As a result of the insight I have gained from the information Charles has shared over these past 9 years, I have been able to navigate this turbulent period much more successfully than most of my acquaintances. I'm sure that those of you who visit OTM with any regularity have similarly benefitted in numerous ways.

The addition of the weekly musings has been an extra bonus for supporters that has provided further insight into the markets, as well as the world around us (often providing a much needed smile).

I have no doubt that those who generously contribute to this site recognize the value that it offers. I hope that those of you who visit, but have not yet contributed, will consider doing so. Your support is essential in helping to maintain such an important resource.
Thank you, Cheryl, for this vote of confidence.
I can only promise that I will continue to do my best.
---