Why We're Doomed: Our Economy's Toxic Inequality
August 16, 2017
Anyone who thinks our toxic financial system is stable is delusional.
Why are we doomed? Those consuming over-amped "news" feeds may be tempted to answer the culture wars, nuclear war with North Korea or the Trump Presidency.
The one guaranteed source of doom is our broken financial system, which is visible in this chart of income inequality from the New York Times: Our Broken Economy, in One Simple Chart.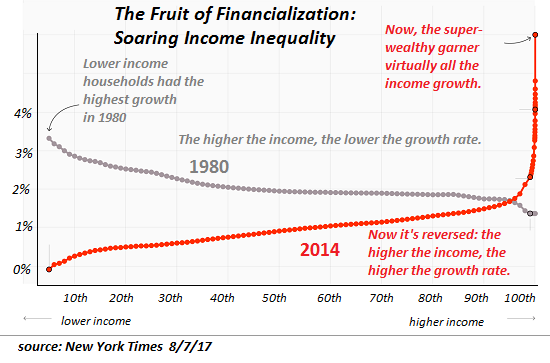 While the essay's title is our broken economy, the source of this toxic concentration of income, wealth and power in the top 1/10th of 1% is more specifically our broken financial system.
What few observers understand is rapidly accelerating inequality is the only possible output of a fully financialized economy. Various do-gooders on the left and right propose schemes to cap this extraordinary rise in the concentration of income, wealth and power, for example, increasing taxes on the super-rich and lowering taxes on the working poor and middle class, but these are band-aids applied to a metastasizing tumor: financialization, which commoditizes labor, goods, services and financial instruments and funnels the income and wealth to the very apex of the wealth-power pyramid.
Take a moment to ponder what this chart is telling us about our financial system and economy. 35+ years ago, lower income households enjoyed the highest rates of income growth; the higher the income, the lower the rate of income growth.
This trend hasn't just reversed; virtually all the income gains are now concentrated in the top 1/100th of 1%, which has pulled away from the top 1%, the top 5% and the top 10%, as well as from the bottom 90%.
The fundamental driver of this profoundly destabilizing dynamic is the disconnect of finance from the real-world economy.
The roots of this disconnect are debt: when we borrow from future earnings and energy production to fund consumption today, we are using finance to ramp up our consumption of real-world goods and services.
In small doses, this use of finance to increase consumption of real-world goods and services is beneficial: economies with access to credit can rapidly boost expansion in ways that economies with little credit cannot.
But the process of financialization is not benign. Financialization turns evertything into a commodity that can be traded and leveraged as a financial entity that is no longer firmly connected to the real world.
The process of financialization requires expertise in the financial game, and it places a premium on immense flows of capital and opaque processes: for example, the bundling of debt such as mortgages or student loans into instruments that can be sold and traded.
These instruments can then become the foundation of an entirely new layer of instruments that can be sold and traded. This pyramiding of debt-based "assets" spreads risk throughout the economy while aggregating the gains into the hands of the very few with access to the capital and expertise needed to pass the risk and assets off onto others while keeping the gains.
Profit flows to what's scarce, and in a financialized economy, goods and services have become commodities, i.e. they are rarely scarce, because somewhere in the global economy new supplies can be brought online.
What's scarce in a financialized economy is specialized knowledge of financial games such as tax avoidance, arbitrage, packaging collateralized debt obligations and so on.
Though the billionaires who have actually launched real-world businesses get the media attention--Bill Gates, Jeff Bezos, Steve Jobs, et al.--relatively few of the top 1/10th of 1% actually created a real-world business; most are owners of capital with annual incomes of $10 million to $100 million that are finance-generated.
This is only possible in a financialized economy in which finance has become increasingly detached from the real-world economy.
Those with the capital and skills to reap billions in profits from servicing and packaging student loan debt have no interest in whether the education being purchased with the loans has any utility to the indebted students, as their profits flow not from the real world but from the debt itself.
This is how we've ended up with an economy characterized by profound dysfunction in the real world of higher education, healthcare, etc., and immense fortunes being earned by a few at the top of the pyramid from the financialized games that have little to no connection to the real-world economy.
Anyone who thinks our toxic financial system is stable is delusional. If history is any guide (and recall that Human Nature hasn't changed in the 5,000 uears of recorded history), this sort of accelerating income/wealth/ power inequality is profoundly destabilizing--economically, politically and socially.
All the domestic headline crises--culture wars, opioid epidemic, etc.--are not causes of discord: they are symptoms of the inevitable consequences of a toxic financial system that has broken our economy, our system of governance and our society.


If you found value in this content, please join me in seeking solutions by becoming a $1/month patron of my work via patreon.com.
Check out both of my new books, Inequality and the Collapse of Privilege ($3.95 Kindle, $8.95 print) and Why Our Status Quo Failed and Is Beyond Reform ($3.95 Kindle, $8.95 print, $5.95 audiobook) For more, please visit the OTM essentials website.
---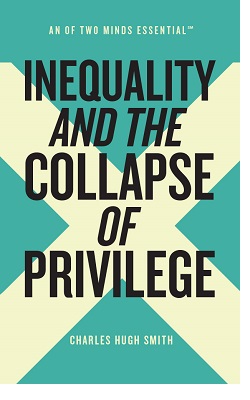 Inequality is rising globally, and rising inequality is destabilizing. A status quo of increasing inequality self-destructs. To avoid this fate, we must answer this question: why is the gulf between the wealthy and everyone else widening so dramatically?
The answer boils down to one word: privilege.
What is privilege? There are many types of privilege, but they all share two characteristics: privilege delivers benefits, wealth and power that are unearned.
Privilege is destabilizing for many reasons: the dead weight of privilege reduces productivity, generates perverse incentives and fuels social injustice. Innovation and competition are threats to privileged monopolies and are therefore suppressed.
The only way to foster sustainable stability is to dismantle institutionalized privilege.
We have a moral imperative to eradicate privilege: privilege is immoral, as rising inequality is the only possible output of privilege. Privilege is exploitive, parasitic, predatory and destructive to the society and economy, and generates inequality by its very nature.
Stripped to its essence, privilege is nothing but institutionalized racketeering.
The only way to reverse rising inequality is to eradicate its source: privilege.
Inequality and the Collapse of Privilege ($3.95 Kindle ebook, $8.95 print edition)
---
Recent entries:
Why We're Doomed: Our Economy's Toxic Inequality August 16, 2017
Are We Already in Recession? August 14, 2017
What the Mainstream Doesn't Get about Bitcoin August 11, 2017
Powerlessness and Consumerism August 9, 2017
Not All Capital Is Equal; Some Is Destructive August 7, 2017
Is Another Oil Head-Fake Brewing? August 4, 2017
USD: Setting Up a Rip-Your-Face-Off Rally or in Freefall? August 3, 2017
Why We're So Risk-Averse: "We Can't Take That Chance" August 2, 2017
6 Key Questions about RussiaGate August 1, 2017


July 2017 June 2017 May 2017 April 2017 March 2017 February 2017 January 2017 2016 Archives 2015 Archives Archives 2005-2016
---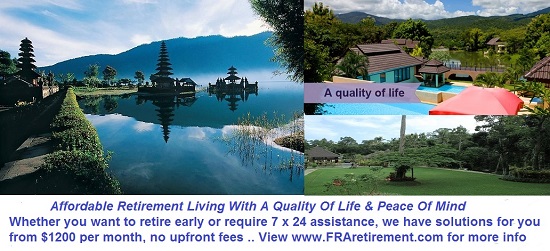 Discover why I'm looking to retire in a SE Asia luxury resort for $1,200/month.

---
Contributions/subscriptions are acknowledged in the order received. Your name and email remain confidential and will not be given to any other individual, company or agency. All contributors are listed below in acknowledgement of my gratitude.
| | | |
| --- | --- | --- |
| Thank you, Steve S. ($50), for your massively generous contribution to this site -- I am greatly honored by your steadfast support and readership. | | Thank you, John F. ($50), for superbly generous contribution to this site -- I am greatly honored by your support and readership. |
---
---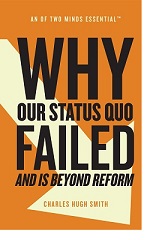 Our status quo--the pyramid of wealth and power dominated by the few at the top--has failed and is beyond reform.
This failure is not rooted in superficial issues such as politics or governmental regulations; the failure is structural.
The very foundation of the status quo has rotted away, and brushing on another coat of reformist paint will not save our societal house from collapse.
Yet those who benefit from our status quo naturally deny it has failed, for the reason that it has yet to fail them personally—either pretending to not understand that all unsustainable systems eventually collapse, or hoping to postpone it.
Our status quo is not only failing to solve humanity's six core problems--it has become the problem.
Since this failure is now inevitable, something is coming to replace it.
Why Our Status Quo Failed and Is Beyond Reform ($3.95 Kindle ebook, $8.95 print edition, $5.95 audiobook)


---
A Radically Beneficial World
: Automation, Technology & Creating Jobs for All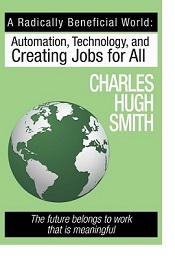 Kindle $9.95
print $25
audiobook $18
Automation is upending the global order by eliminating human labor on an unprecedented scale--and the status quo has no solution to this wholesale loss of jobs.
What if we could hit the reset button on the way we create money, work, commerce and community? What if we could design a social economy rather than a merely financial one? These are not idle questions, for technology now enables us to hit that reset button and organize the creation of money, work, commerce and community in new ways.
If we could start from scratch, what would a new system look like? Clearly, we need a system that offers what the current system cannot: meaningful work for all.
This book is the practical blueprint of a new system that offers opportunities for meaningful work and ownership of the sources of prosperity not just to a few, but to everyone.
A radically beneficial world beckons—what are we waiting for? Introduction Chapter One (free PDF)
---
Get a Job, Build a Real Career and Defy a Bewildering Economy
(Kindle, $9.95)(print, $17.76)
audiobook, $19.95
(Audible.com)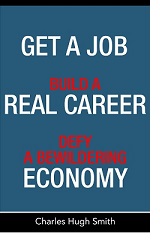 "Don't give this to a recent grad. Read it when your kids are born and then read it with them around eighth grade."
"Finally a book that gives practical career advice. The author does an excellent job describing the current economic and political system and how this affects employment opportunities. Times have changed dramatically, and will continue to do so faster than ever. I'm glad I stumbled upon this excellent book, and will begin preparing myself accordingly." Joseph
"I want to thank you for creating your book Get a Job. It is rare to find a person with a mind like yours, who can take a holistic systems view of things without being captured by specific perspectives or agendas. Your contribution to humanity is much appreciated." Laura Y. Test-drive the first section and see for yourself.
---
---
Of Two Minds Site Links
home musings my books archives books/films policies/disclosures social media/search Aphorisms How to Contribute, Subscribe/Unsubscribe sites/blogs of interest original music/songs Get a Job (book) contributors my definition of success why readers donate/subscribe to Of Two Minds mobile site (Blogspot) mobile site (m.oftwominds.com)